Discover more from Lenny's Newsletter
A weekly advice column about building product, driving growth, and accelerating your career.
Over 561,000 subscribers
28 Ways to Grow Supply in a Marketplace 📈
What I learned about growing supply at Airbnb that you can apply to your marketplace business
Yesterday I was fortunate enough to be a guest contributor to Andrew Chen's blog. The response has been amazing. Below I've included that entire post, along with a dozen bonus examples and tips that didn't make it into the original post. My intention is to dive deeper into some of these tactics and strategies in future posts, so if there's anything specific that you'd like to hear more about, I'd love to know. Tweet me or leave a comment below.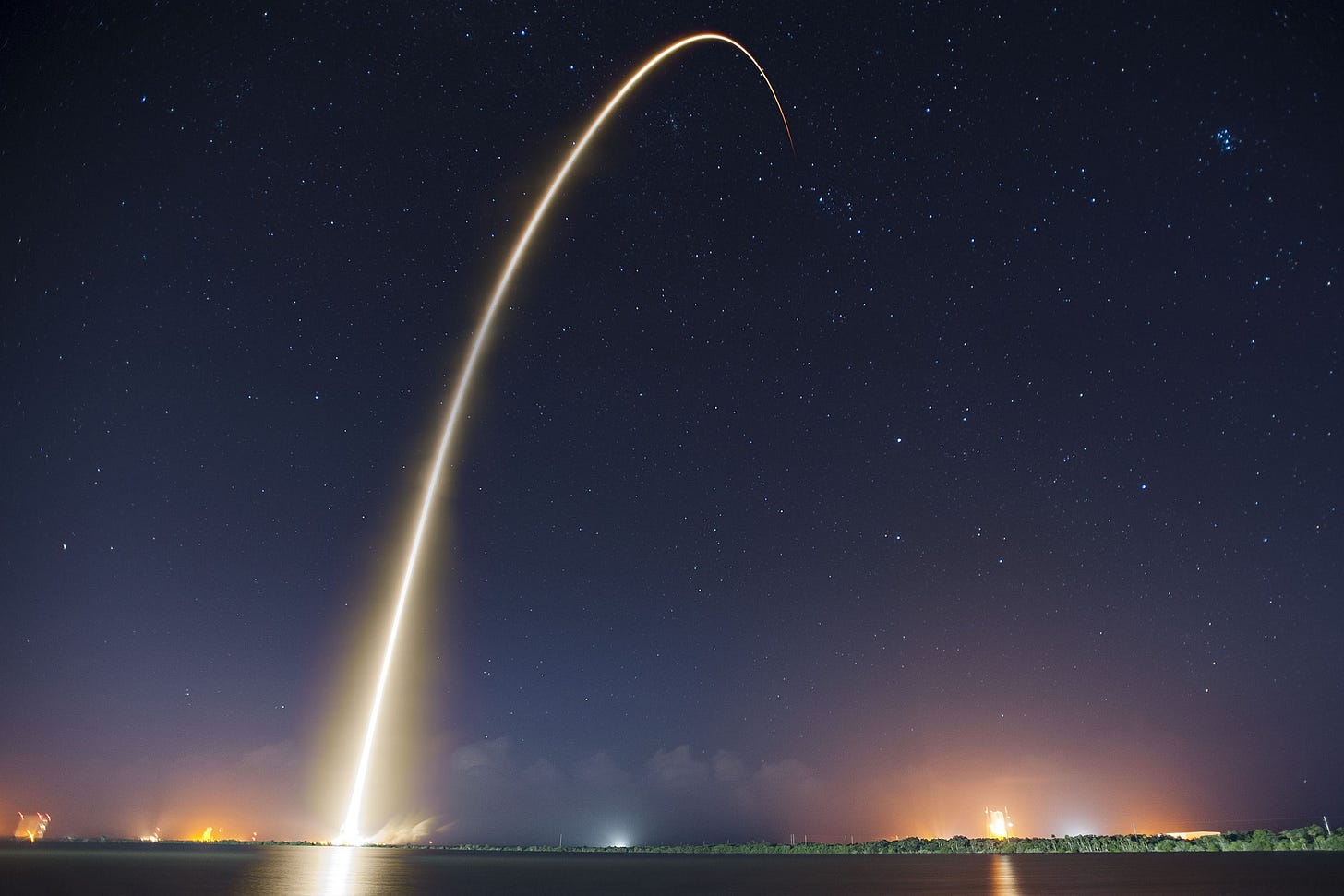 Airbnb now seems like an unstoppable juggernaut, but early on it was so fragile that about 30 days of going out and engaging in person with users made the difference between success and failure.

— Paul Graham, founder of YC
Deciding to open your home to strangers is a complex decision. Over the course of the seven years that I spent at Airbnb, my work centered around helping people all over the world make this decision. As the number of homes on Airbnb scaled from around 100,000 in 2012 to over 6 million today, I led teams tackling everything from supply growth, to guest booking conversion, to marketplace quality. As a result of this experience, I'm often asked what I'd recommend startups do to grow supply in their marketplace. The truth is that at the root of Airbnb's success was a very good idea — affordable and unique travel experiences for guests, and great income for hosts. That being said, an idea is nothing without execution.
Below is an overview of every tactic and strategy I've seen used to bootstrap and accelerate supply growth, both at Airbnb and other successful marketplaces. Though some of these worked at Airbnb, and some didn't, every marketplace has different challenges — my advice is to pick a few tactics that resonate, experiment with them, learn, and adjust.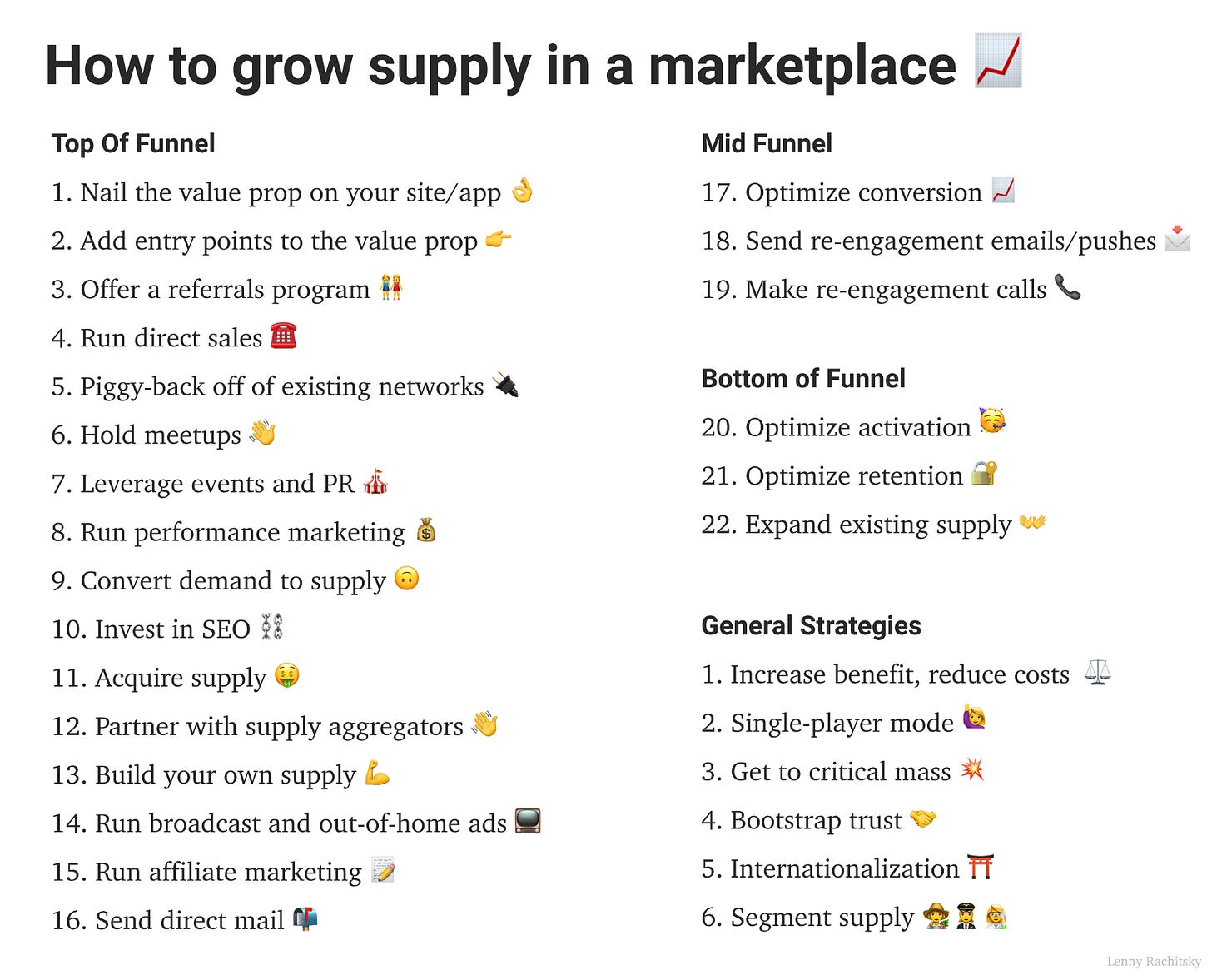 Examples of marketplaces: Airbnb, Uber, Lyft, eBay, Etsy, Hipcamp, DoorDash, Caviar, Uber Eats, GrubHub, Rover, Wag, Postmates, Patreon, Thumbtack, TaskRabbit, Outschool, Fiverr, Kickstarter, Lugg, Peerspace.

Tactic #1: Nail the value prop on your site/app 👌
Understanding the context and expectations of your audience is vital to engaging them. At Airbnb we tailored the value props all the way from ad creative to landing pages.
What: You need to convince visitors why they should become "hosts" on your platform when they visit your site (and then deliver on that promise). This may be obvious, but this is a foundational piece that enhances every other tactic below. It's especially impactful for marketplaces that primarily grow organically because you'll end up converting a significantly larger portion of your traffic.
Stage: Start on day 1, and continue iterating
Cost: Small
Impact on Airbnb supply growth: X-Large
Examples:
At Airbnb, the earnings estimate was an order of magnitude more effective than any other value prop. Any time we hid or obscured it, growth dipped. However, it's critical that this estimate is realistic, both for legal reasons and to set the right expectations for your users.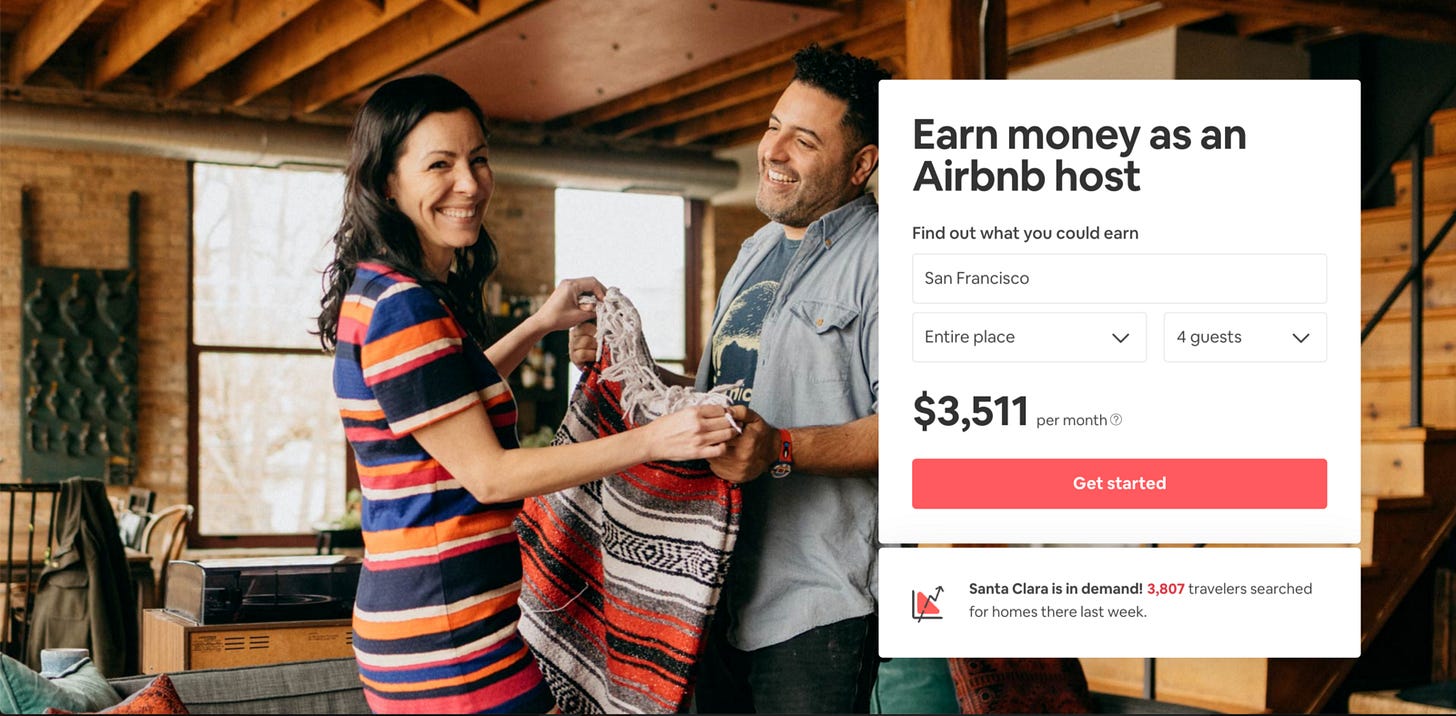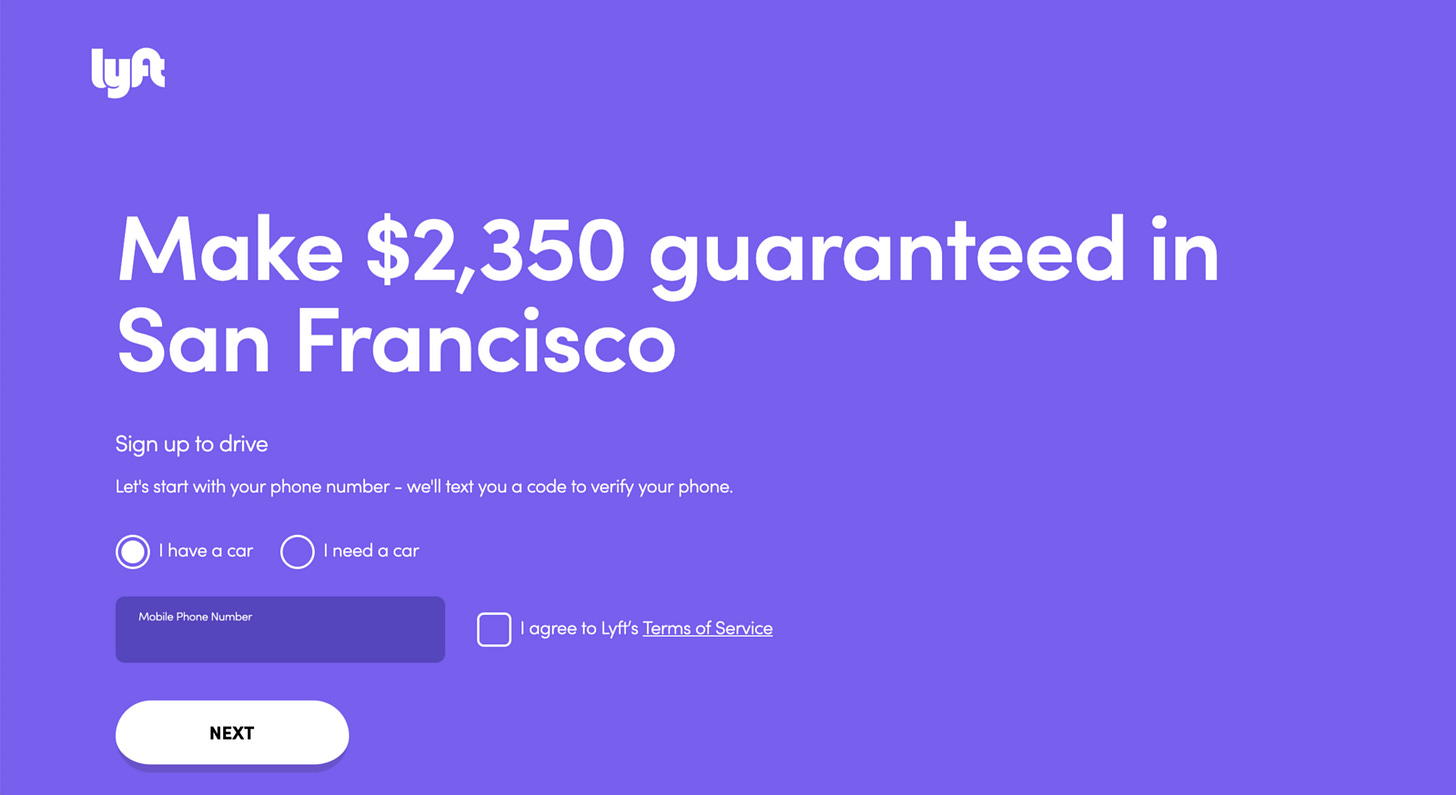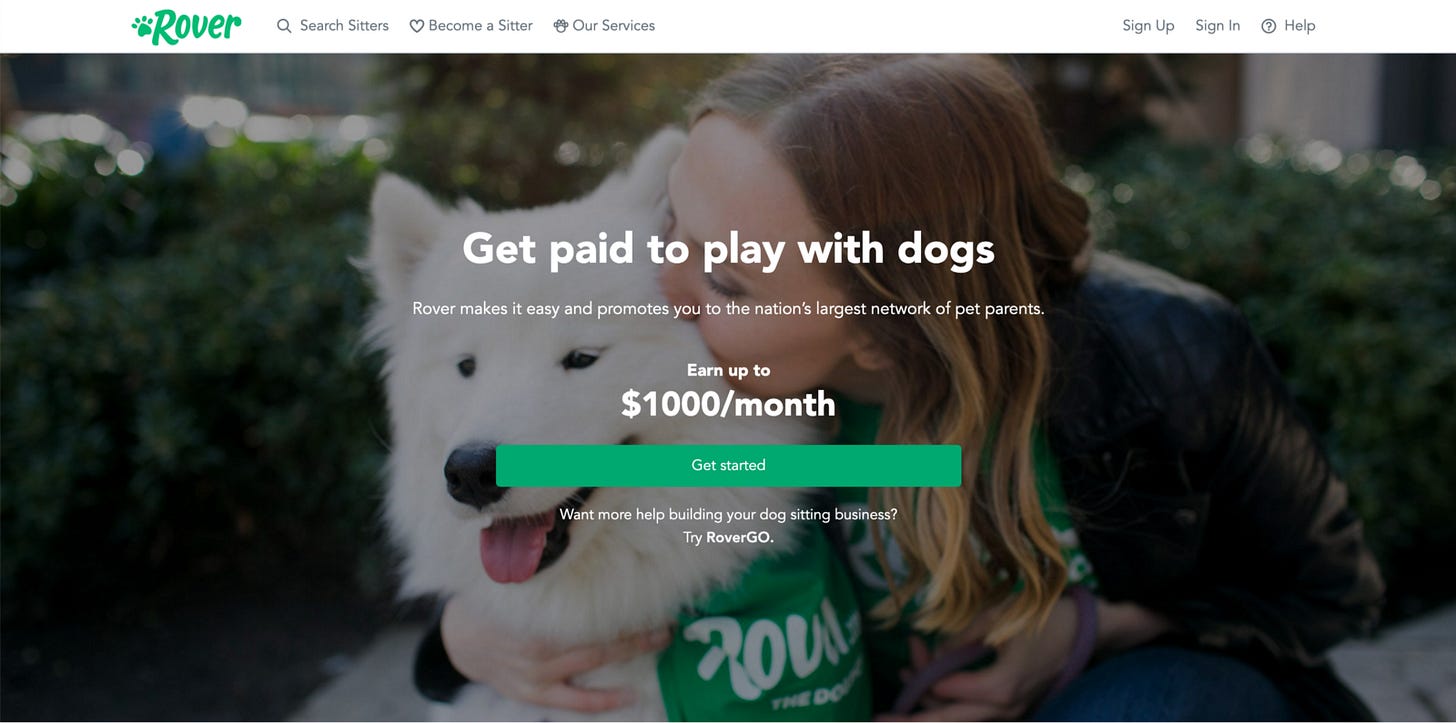 An example where an opportunity is being missed (doesn't show possible income):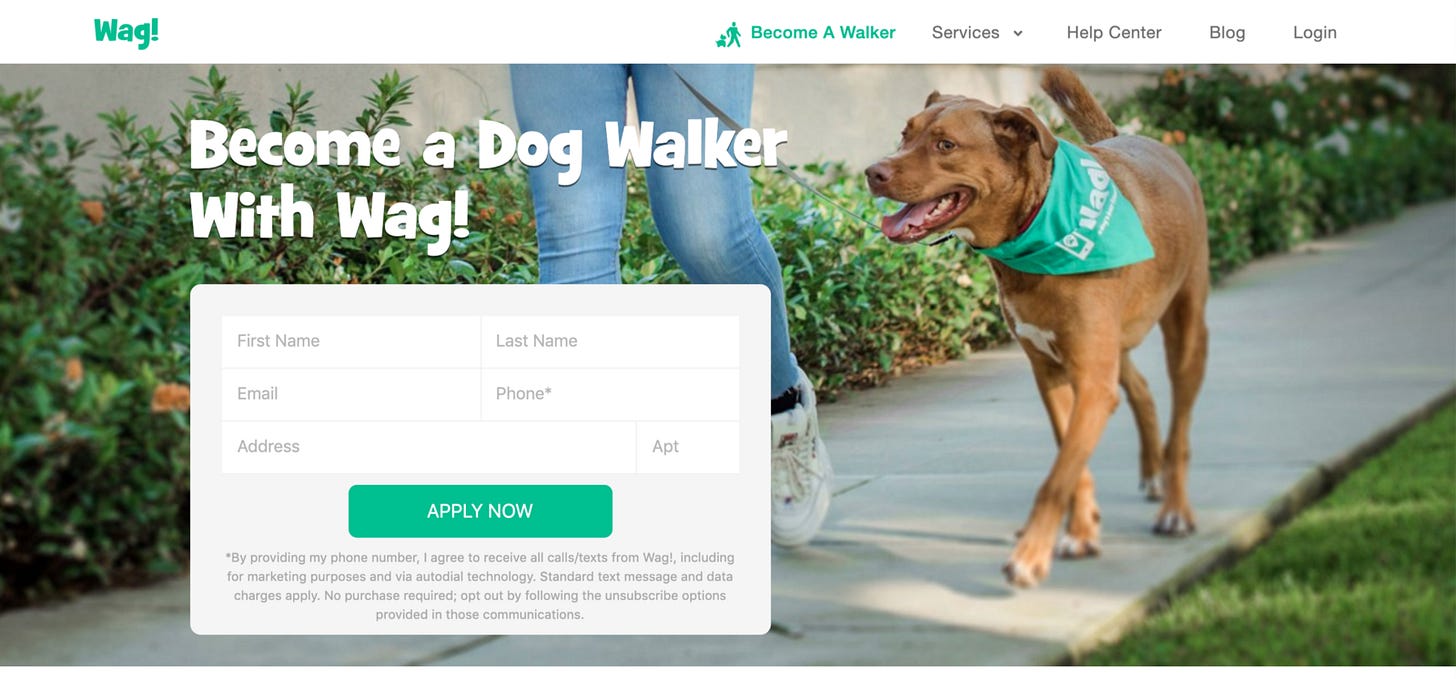 Tips:
Take your best shot at the pitch at first, and keep iterating as you learn more about your users.

Help the user understand how they would benefit from hosting with you, and address all of their concerns. In most cases, it's primarily going to be about the income they can make.

Deliver on the promise. Or at least get close. This will lead to word-of-mouth growth, which is key.
Question: What has worked when pitching your existing "hosts"? Make sure your site/app says the same thing boldly and directly.
---
Tactic #2: Add entry points to the value prop 👉
What: Drive your site visitors towards your "host" pitch. This includes call-outs in the top level nav, in the footer of every screen, and sprinkled throughout the user experience. Do not assume your visitors know this exists, or why they should ever consider it.
Stage: Start on day 1, and continue iterating
Cost: Small
Impact on Airbnb supply growth: Large
Examples: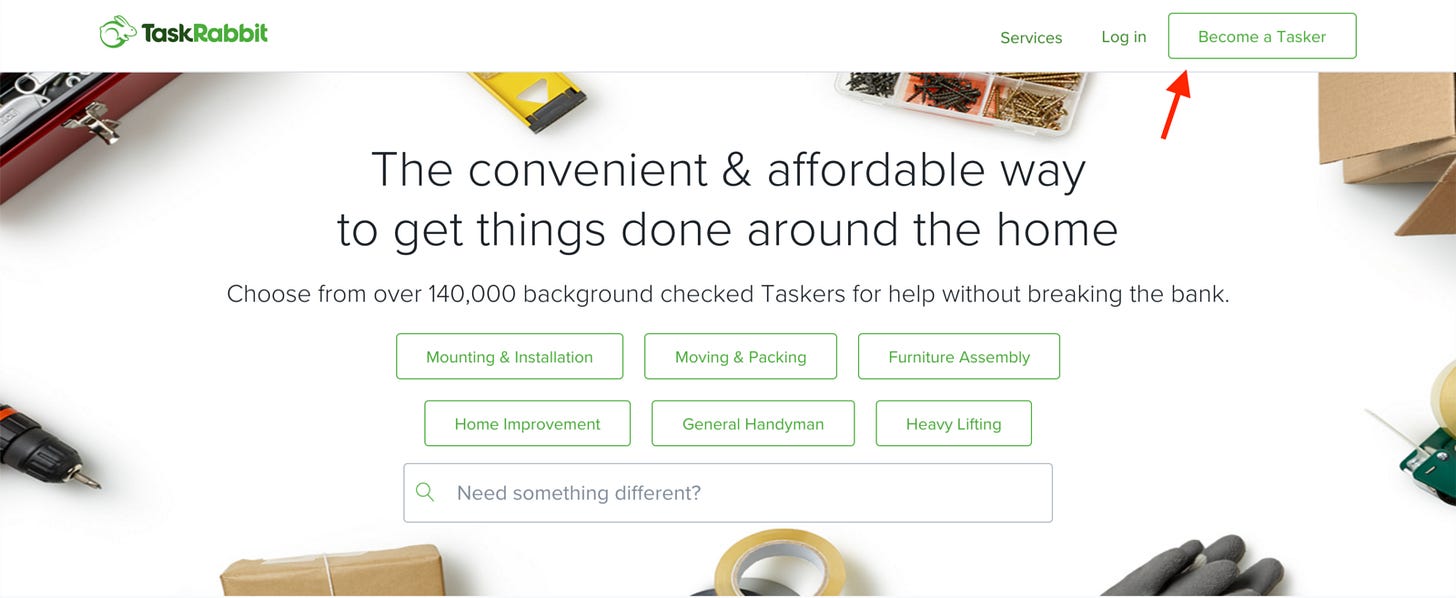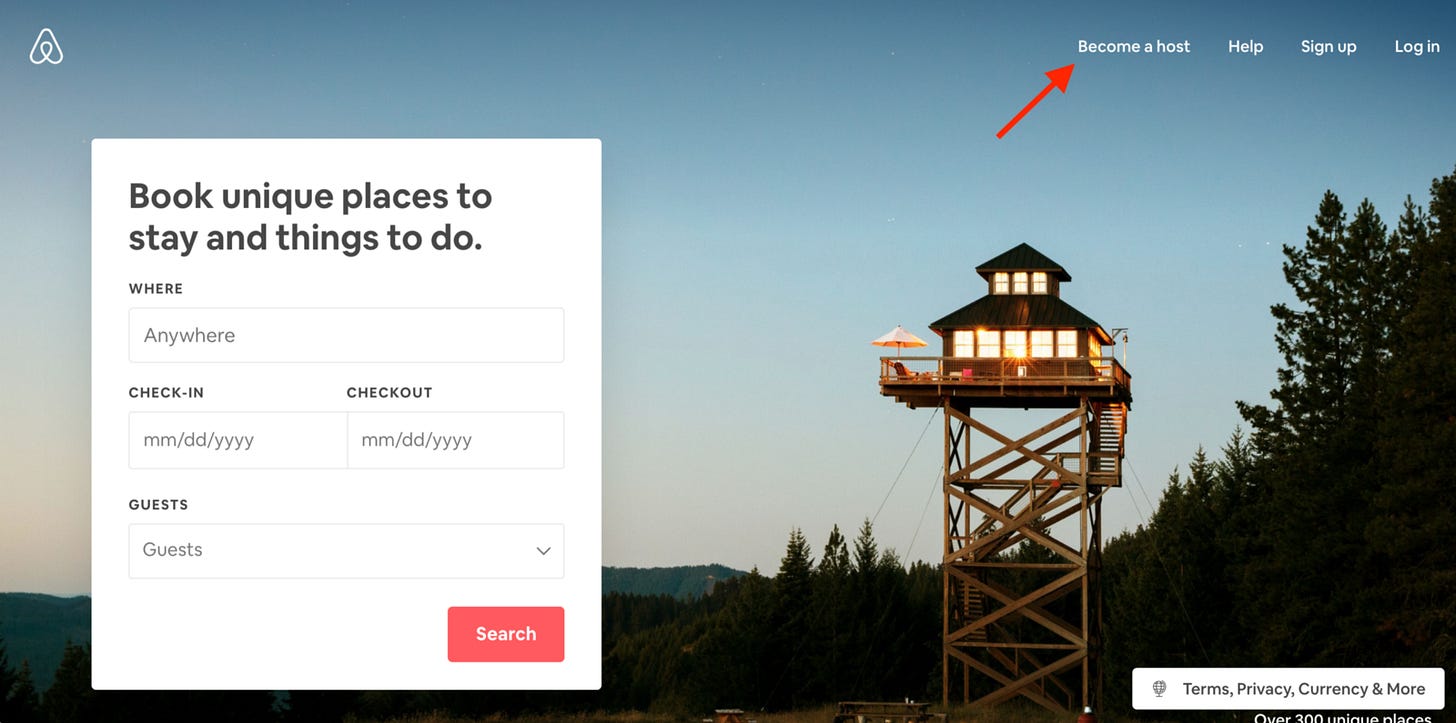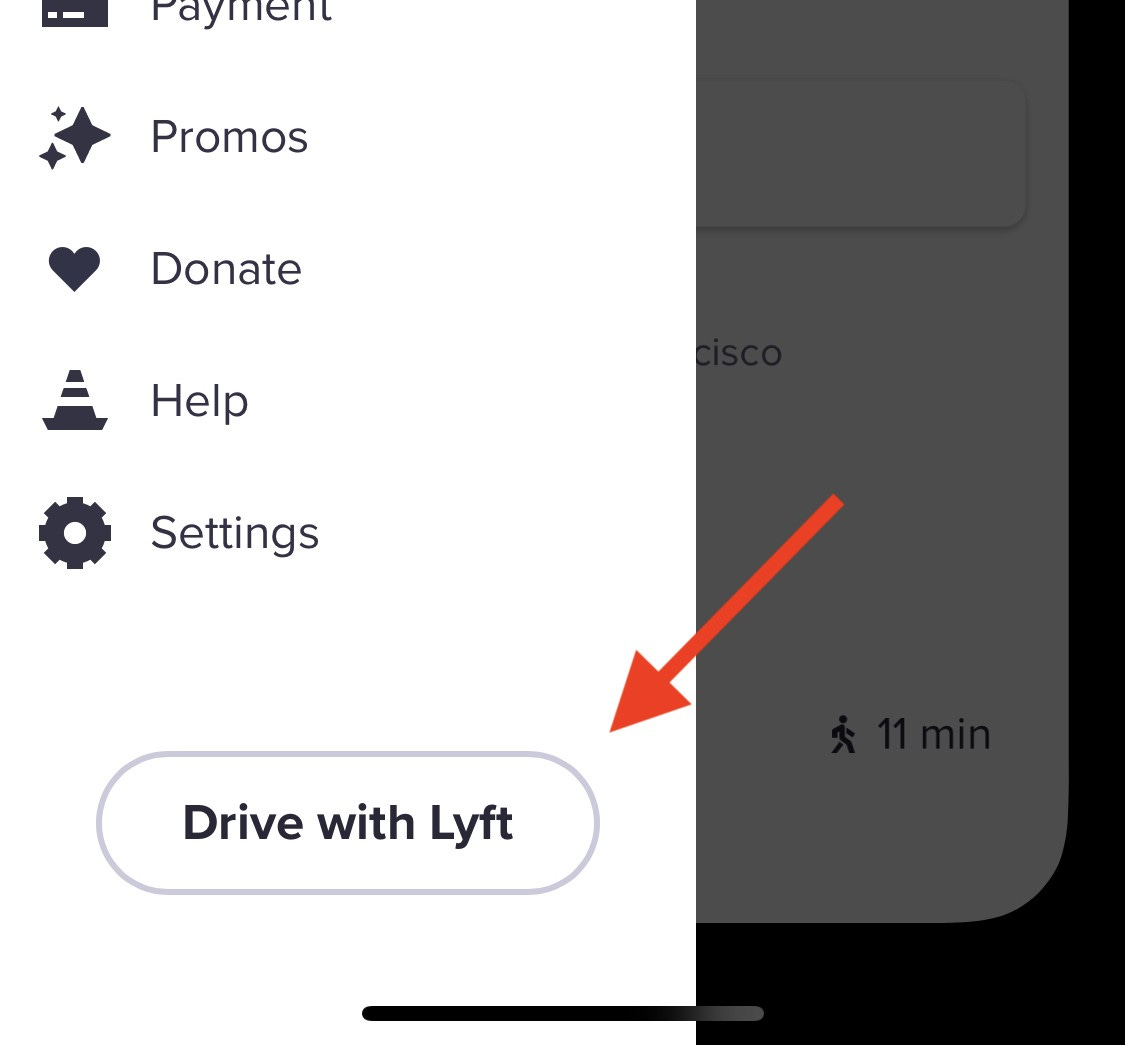 An example where an opportunity is being missed (no entry point into becoming a driver):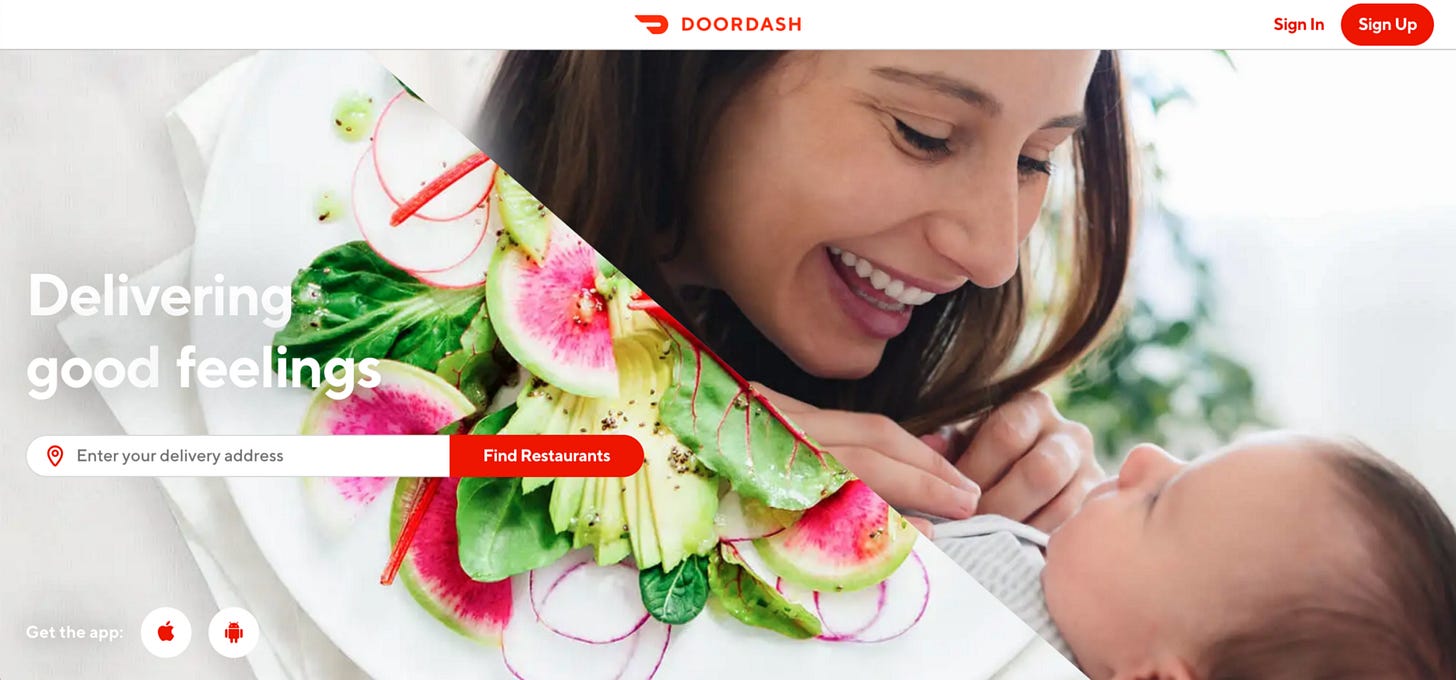 Tips:
It's hard to have too many entry points into your "host" pitch. Users will ignore it if it doesn't apply to them. Resist the urge to be shy about this, especially if you are supply constrained.

Every time your user has a good experience, encourage them to become a "host", to provide this experience to others (while making money).

Be more aggressive with this than you're comfortable.
Question: Where else can you include a call-out to consider becoming a "host"?
---
Tactic #3: Offer a referrals program 👭
If your product requires word-of-mouth to convince most people to start using it, you can engineer more growth by building an incentivized referrals program. The incentive will be fuel that pushes people over the edge to tell their friends about something they love using

— Gustaf Alströmer, ex-Airbnb Growth Lead, Partner at YC
What: Incentivize word-of-mouth by paying existing members for every new member they refer to the platform.
Stage: Start early with a scrappy version, and get smarter over time
Cost: Medium
Impact on Airbnb supply growth: Large
Examples:
At Airbnb, the host referral program became the single most efficient and effective growth lever for consumer supply, cost efficiently driving both the largest share of attributable supply AND the highest quality supply,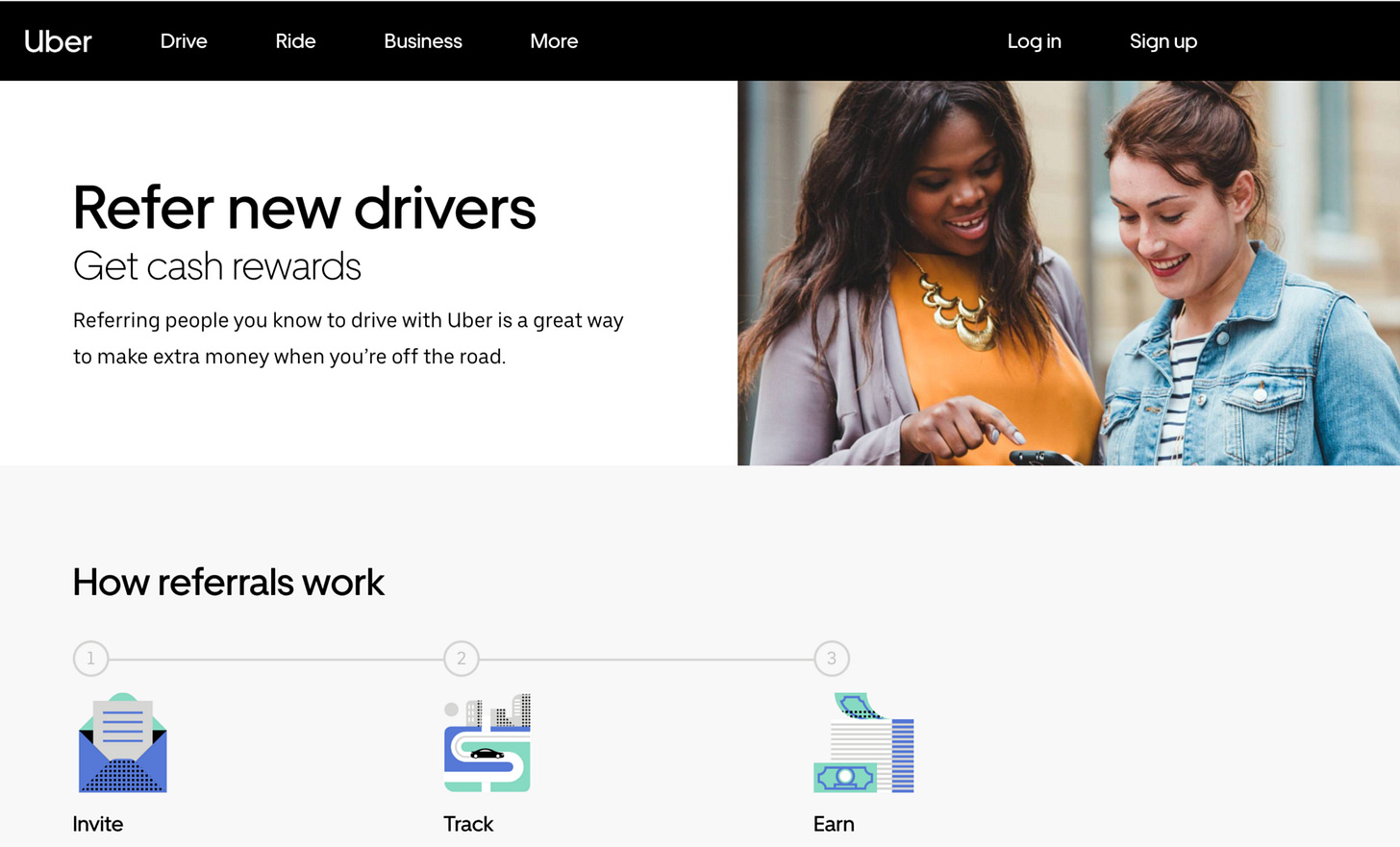 Uber: https://www.uber.com/drive/partner-app/new-driver-referrals/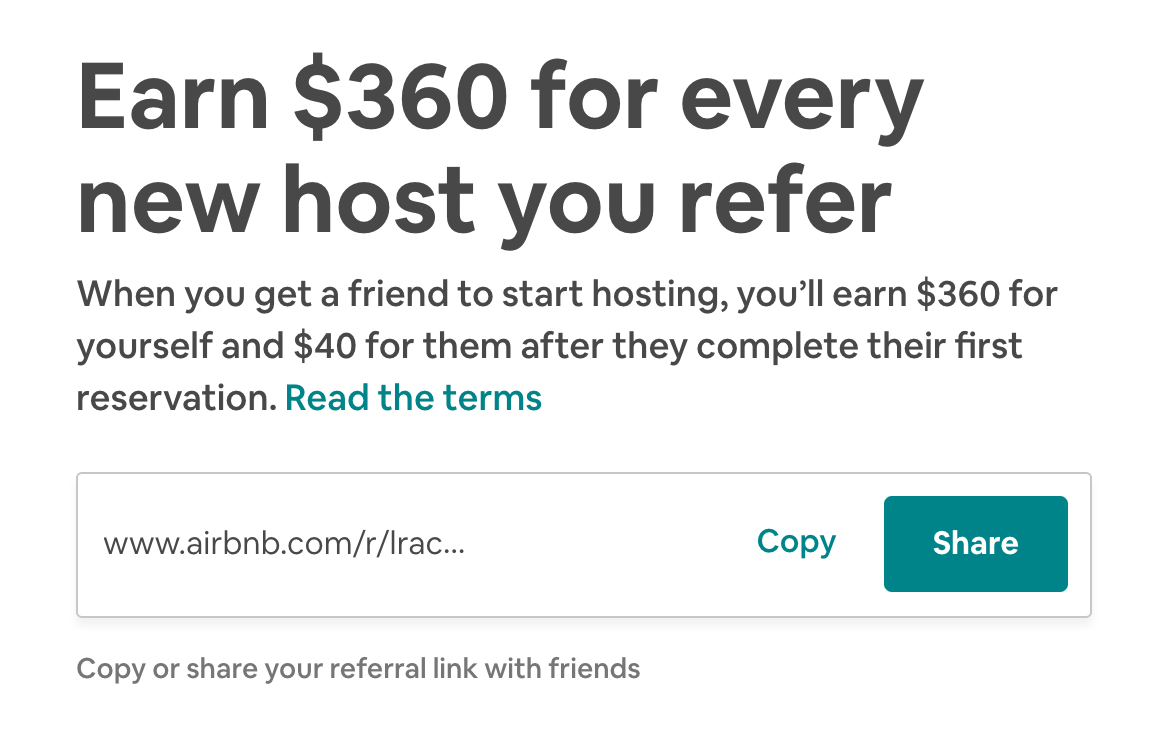 Airbnb: https://www.airbnb.com/refer?r=6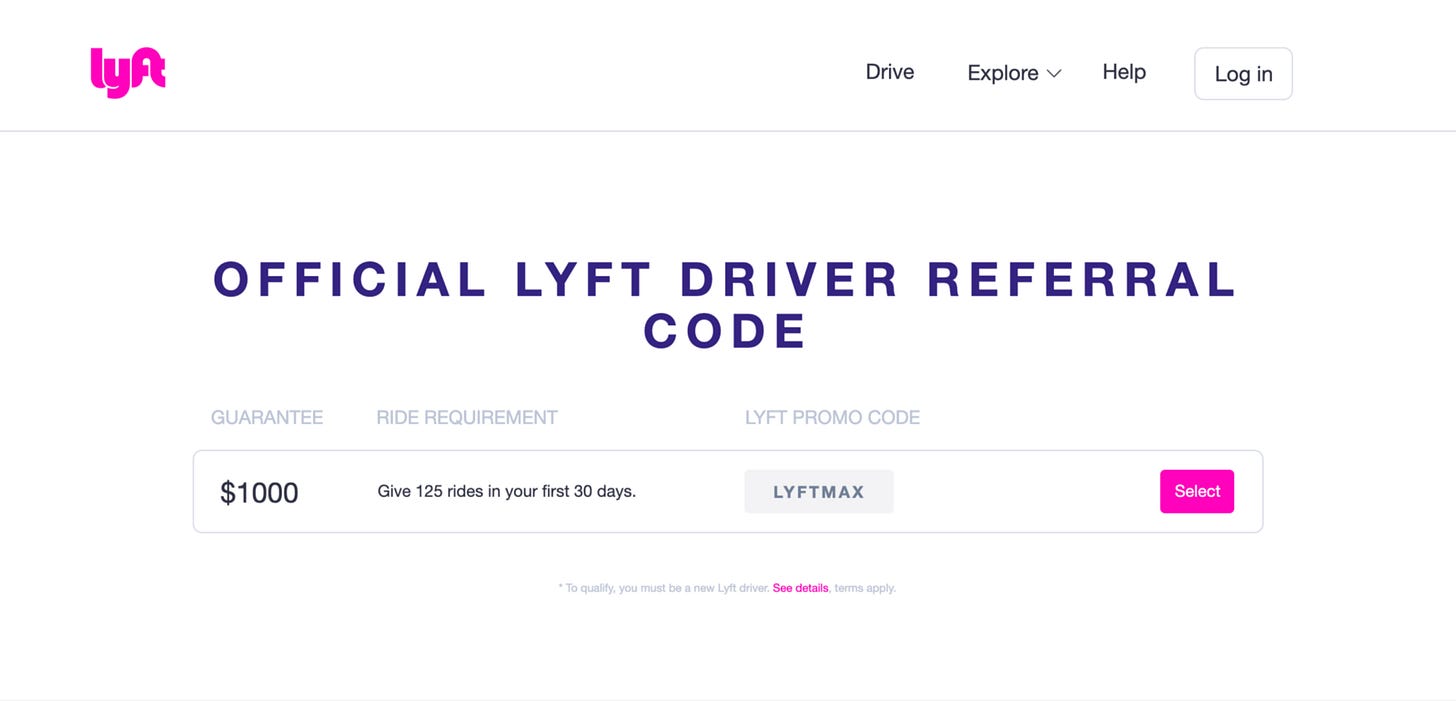 Lyft: https://www.lyft.com/driver-bonus
Tips:
If most of your supply growth is coming from word-of-mouth, and especially if your users have large social graphs, then a referrals program is going to be huge for you.

Once you have this, don't hide it. Promote it throughout the user experience.

Once you reach scale, fraud becomes a real issue. Watch for it as you grow, and invest in addressing it.
Question: What's the simplest way you can test a referrals offering?
---
Tactic #4: Run direct sales ☎️
After calling and activating 100 listings in a market, we then drove demand there to see what converted. We then called these hosts to help them convert their requests into bookings. This was all manual, but super effective, all the while we were getting direct market feedback.

— Georg Bauser, ex-International Expansion at Airbnb
What: Call, email, or go door-to-door to pitch potential "hosts" on joining your platform. Sometimes this includes convincing them to switch from a different platform, sometimes it includes teaching them how to do it in the first place. This tactic is one of the more complex and operationally heavy, but also often the most effective at bootstrapping a marketplace.
Stage: Early-stage for B2C, an evergreen lever for B2B
Cost: Medium
Impact on Airbnb supply growth: Medium-Large
Examples:
Tips:
Hand-hold your early members. Help each new early member becomes successful in order to seed the platform with the type of supply you want. As a bonus, these early hosts will become loyal and unlikely to switch to a competitor, because you are building the business together.

This tactic is particularly effective if your supply is un-commoditized and has high LTV, and if you're creating a new market or behavior.

Be creative in how you figure out contact information.
Question: What's stopping you from cold-calling potential "hosts" today?
---
Tactic #5: Piggy-back off of existing networks 🔌
Initially, the Etsy team were freelance web designers and one of their clients was a craft forum called getcrafty.com. Throughout the redesign process, the Etsy team interacted with the website's 10,000 users to best understand their needs. They began to notice that there was a large number of users who were looking for a platform to sell their handmade wares. While they were building Etsy, they also found out about Crafster.org, this time a message board with 100,000 users and were able to tap into another willing market. We extended an accommodating bridge to a preexisting online community, and they jumped aboard happily.

— Chris Maguire, co-founder of Etsy
What: Go to the place your existing supply is distributed and convince them to switch.
Stage: Early-stage
Cost: Small
Impact on Airbnb supply growth: Large
Examples:
Tips:
To be successful here, you'll have to be "creative" in how you do said piggy-backing. Airbnb piggy-backed off of Craigslist for both supply and demand.

Make it super easy to switch from them to you.

You will only win if you can drive more demand or profit to that same supply. Otherwise, why would they choose you?
Question: Where do people currently find what you are offering, and is there a way you can piggy-back off of that channel?
---
Tactic #6: Hold meetups 👋
To launch a city, we'd travel there and hold a meetup. Here in San Francisco, it's not a big deal to meet a founder. In other places, that's pretty novel. They would get so excited that they met us that they'd tell their friends. The markets started turning on, and we religiously focused on making sure customers loved us.

— Brian Chesky, CEO of Airbnb
What: Bring "hosts" and anyone considering become a host together in person. This can be small intimate gatherings or large'ish events.
Stage: Early-stage
Cost: Small
Impact on Airbnb supply growth: Medium early-stage, Small late-stage
Examples: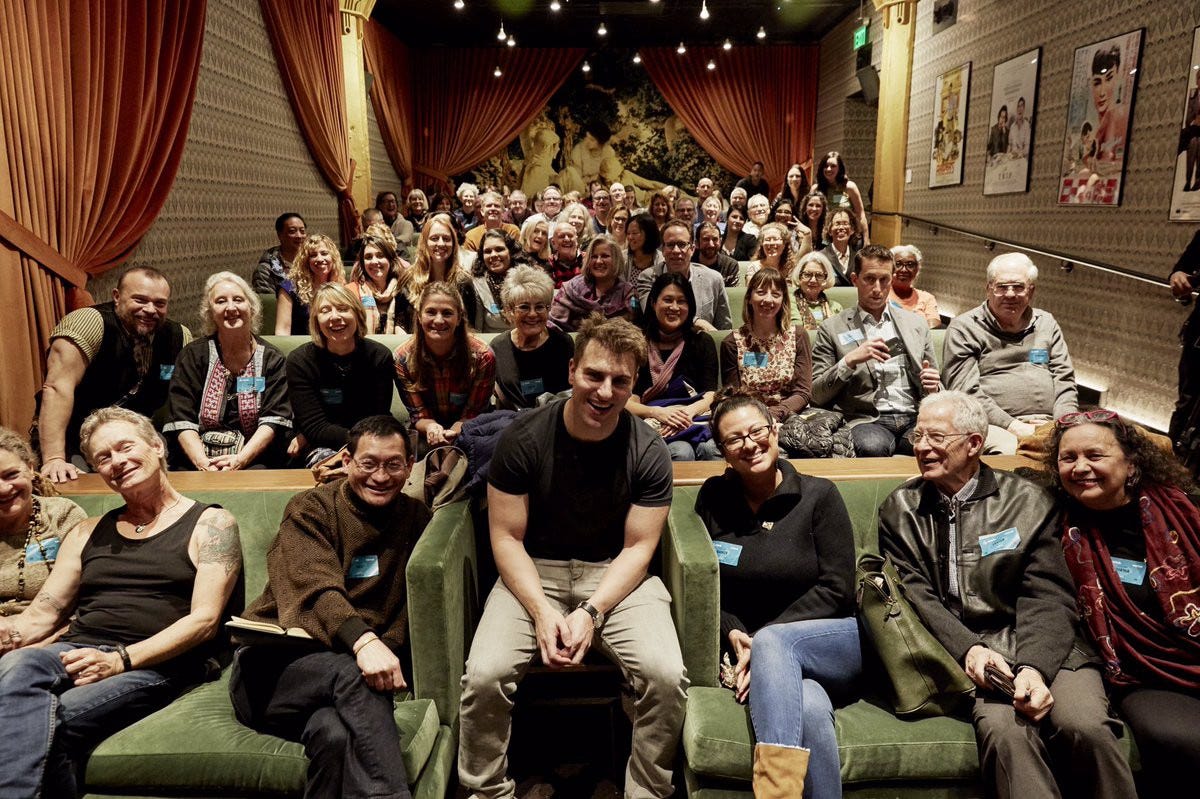 Source: https://twitter.com/bchesky/status/839209664197754880
Tips:
The highest value of the meetups is for employees to listen to users, to answer questions, and simply to give people a chance to meet and share. Resist the urge to fill the time with presentations and speeches.

You don't need to spend a bunch of money on each meetup. They can be scrappy and simple.

Don't expect to be able to quantify the impact of hosting meetups. We tried this many times and we never saw any measurable impact. But, looking back, it's clear that it was important early on.
Question: Where is your early community most concentrated? Why aren't you there right now?
---
Tactic #7: Leverage events and PR 🎪
In the early days we targeted a lot of events: the DNC, the Presidential Inauguration, music festivals, the World Cup, Olympics, etc. Events and PR were the main way we bootstrapped the network in the early days.

— Brian Chesky, CEO of Airbnb
What: Leverage a specific event to pitch potential "hosts" and seed PR stories about how your service is helping people.
Stage: Early-stage
Cost: Small
Impact on Airbnb supply growth: Medium
Examples: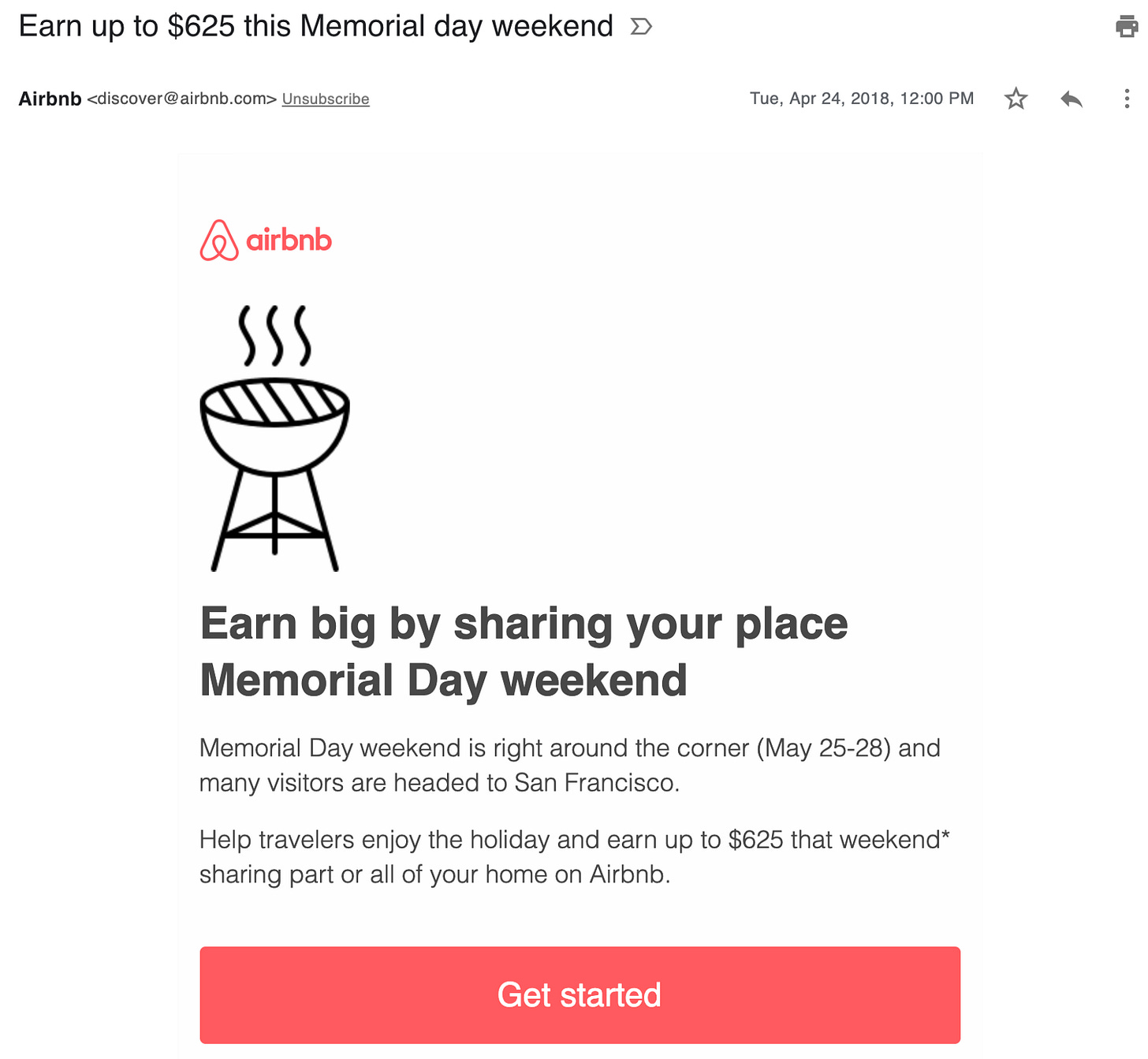 Tips:
Find ways to be creative and stand out during the event.

Use that same creativity to develop PR pitches. What would give the press an interesting angle on the event?

Get on the ground. You need to be there, hustling.
Question: Are there punctuating moments where your offering is most beneficial for your supply?
---
Tactic #8: Run performance marketing 💰
Performance marketing is about reaching people where they are, inspiring them to take action and doing so cost effectively. You quickly learn that it's a unique blend of art and science, and we were most effective at scaling this powerful lever when we had a dedicated cross-functional team sitting together — product, marketing, engineering, data science, design, content, and finance.

— Fatima Husain, ex-Airbnb host paid growth lead, Principle at Comcast Ventures
What: Run Facebook, Google, Twitter, etc. ads.
Stage: Early-stage for some businesses, late-stage for others
Cost: Medium/Large
Impact on Airbnb supply growth: Medium
Examples: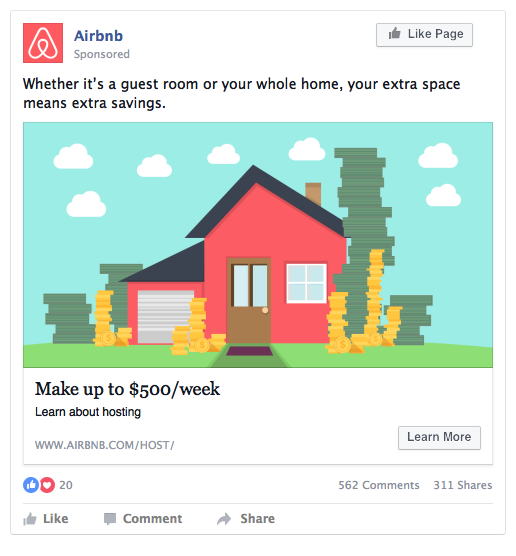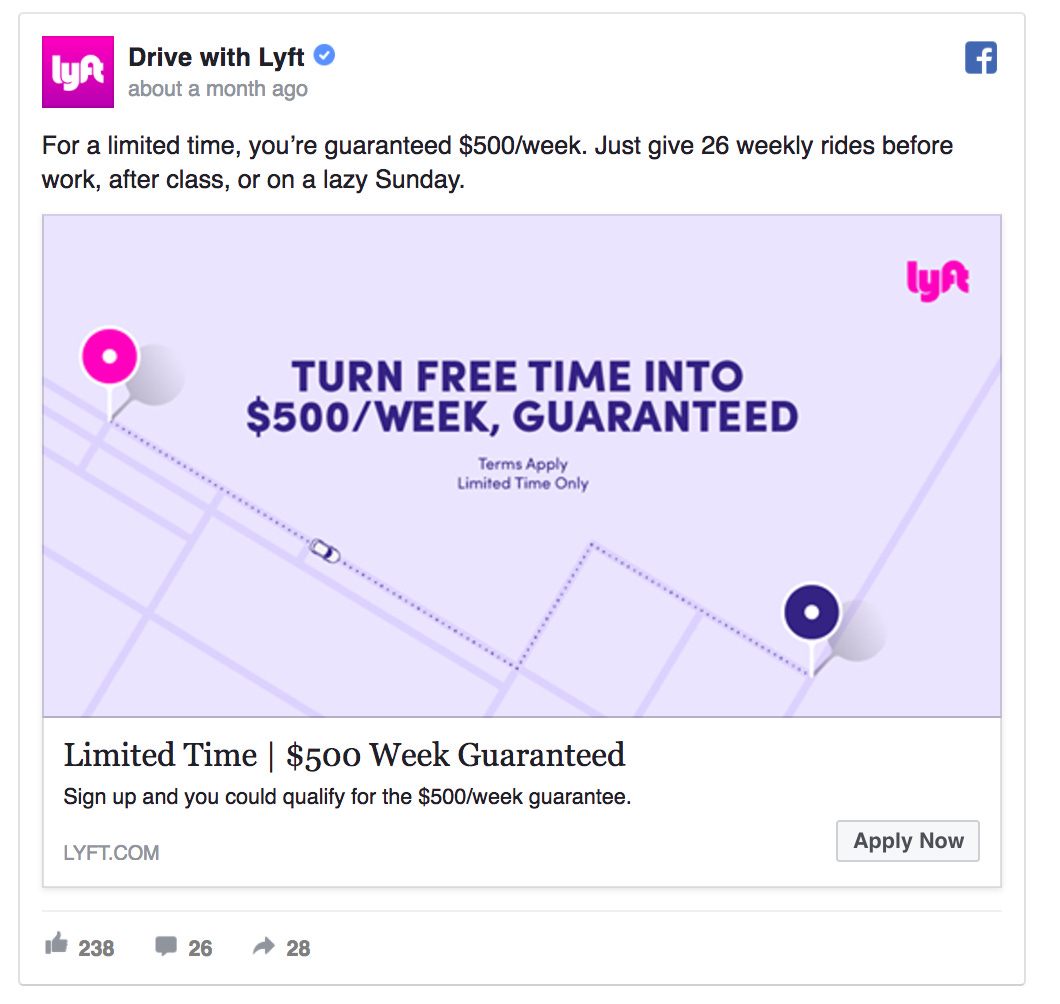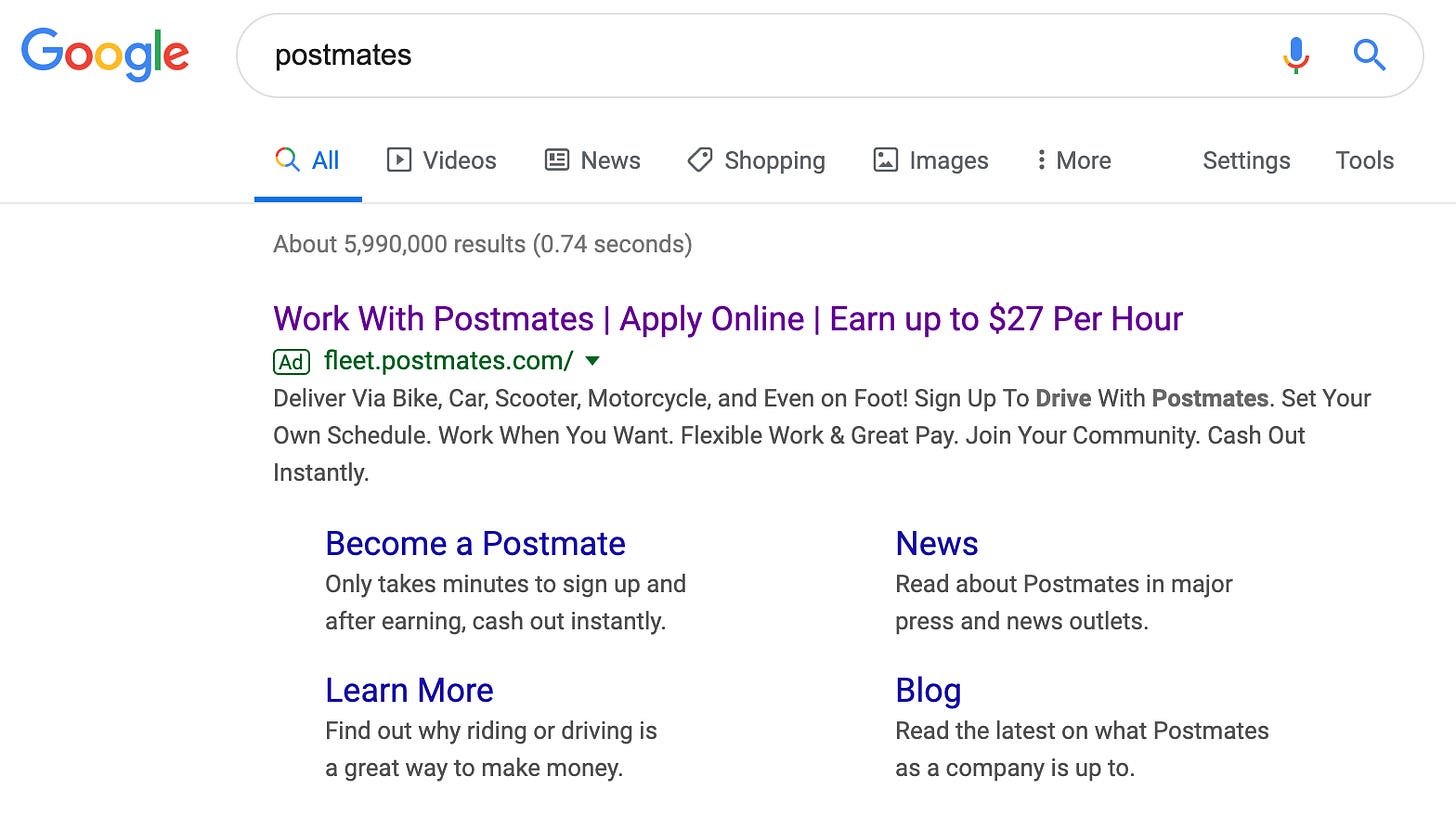 Tips:
Knowing your supply LTV is key, so that you know how much you can spend.

You can figure out the basics yourself, but try to hire people that have done this before.

This lever works, but can easily become addicting.
Question: Where do your potential "hosts" spend time online?
---
Tactic #9: Convert demand to supply 🙃
Converting travelers to hosts definitely moved the needle when we launched a new market. Plus, these new hosts were the most empathetic as they remembered the guest's needs.

— Kati Schmidt, ex-Head of B.D., Airbnb Germany
What: Convince users to become "hosts" on the platform. This builds on Tactic #2 — go deeper into the user experience and find moments when it makes sense to pitch "hosting" (e.g. after a great experience).
Stage: Start early, and continue iterating
Cost: Small
Impact on Airbnb supply growth: Medium early-on, Small later-stage
Examples: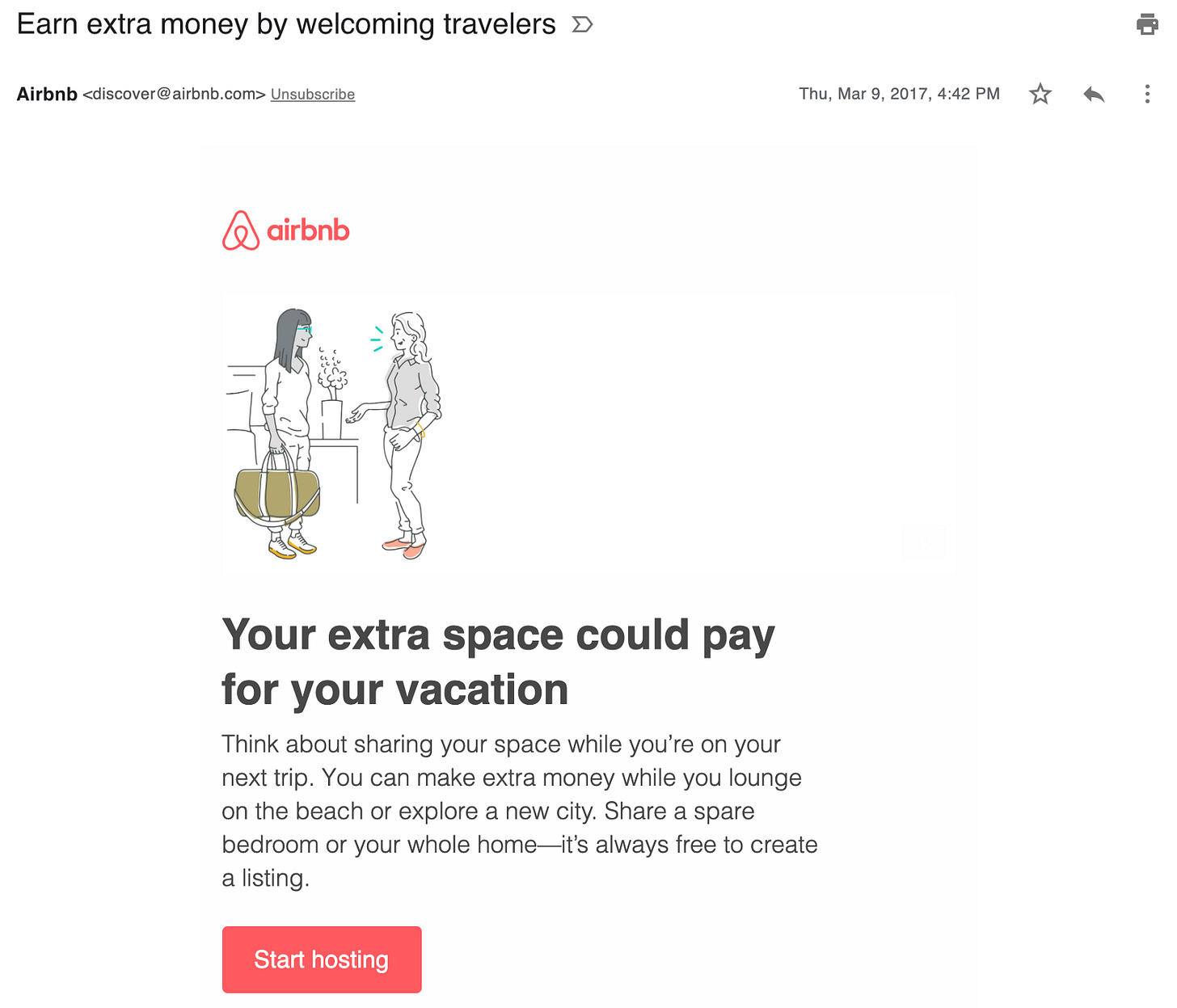 Tips:
This can be manual/ops based at first, and productized over time.

Think about a clever pitch you can make to your users, e.g. "Pay for your trip by hosting your home".

See how Uber, Lyft, and Airbnb do this throughout the demand-side experience.
Question: What percentage of your demand could potentially be the supply? If it's in double digits, see if you can suggest or even incentivize this behavior.
---
Tactic #10: Invest in SEO ⛓
What: Drive organic search traffic to your site.
Stage: Early for some businesses, late-stage for others
Cost: Small
Impact on Airbnb supply growth: Small
Tips:
SEO is generally more effective for demand. I haven't seen SEO be a major driver of growth on the supply side, including at Airbnb.

The best SEO content is user-generated-content that is created as a part of the user experience.

Find an SEO expert to help you figure this out.
Question: What job are you solving for potential "hosts", and what does that translate to when they search for solutions?
---
Tactic #11: Acquire supply 🤑
We needed to move fast and acquiring companies with inventory in these competitive markets provided an immediate benefit. Often times the expense of the acquiring the company that had the inventory was cheaper than the cost to go about acquisition in an organic way. The key is to understand the migration percentage that would come through. We aimed for 60–80% to migrate over.

— Jonathan Golden, first PM at Airbnb, partner at NEA
What: Acquire companies that currently have the supply you want.
Stage: Always
Cost: Large (but strategic)
Impact on Airbnb supply growth: Small globally, Large in key markets
Examples:
Tips:
Since you are betting on network effects, the value of that supply to your network should be much higher to you than to a small local company. Thus, it may be worth paying a premium.

Make sure the supply you are buying is actually good.

Don't underestimate the work it'll take to migrate the supply, both technically and interpersonally.
Question: Are there small players with a strategic foothold you can acquire or merge with?
---
Tactic #12: Partner with supply aggregators 👋
What: Plug-in a partner's supply into your marketplace, through partnerships, licensing, or even scraping.
Stage: Always
Cost: Small
Impact on Airbnb supply growth: Small
Examples:
Tips:
Be strategic and thoughtful about the type and quality of supply you bring on. The quality and experience with that supply will reflect directly on your brand, not theirs.

Make sure you are clear on your long-term competitive advantage, and not only growing this partner's business. What's your differentiator, and how will you maintain it?

Make sure the user experience is smooth and feels native.
Question: What would be the biggest upside of adding 3rd party supply to your marketplace?
---
Tactic #13: Build your own supply 💪
One of the smartest things we did in the early days of Udemy was produce our own courses. Production (i.e. filming & editing video content) is a huge friction point in our supply-side process. So, we produced a few of our own courses in the beginning and then marketed the heck out of them. This wasn't scalable, but it did allow us to build powerful social proof points which were critical to our long-term success.

— Dinesh Thiru, VP of Marketing at Udemy
What: In some marketplaces, you can either bootstrap supply by creating it yourself (e.g. videos), pay early users to become supply (e.g. Uber/Lyft paying drivers a salary), or your build your entire business on your own supply (e.g. Sonder).
Stage: Depends on business
Cost: Medium/Large
Impact on Airbnb supply growth: Small
Examples:
Tips:
Set the norms through the type of supply you create.

Often not possible due to the business model.

Be careful about the legal implications.
Question: What would it cost to build your own supply, and how does that compare to customer acquisition costs?
---
Tactic #14: Run broadcast and out-of-home ads 📺
What: TV commercials, podcast ads, movie ads, etc.
Stage: Always
Cost: X-Large
Impact on Airbnb supply growth: Small
Examples: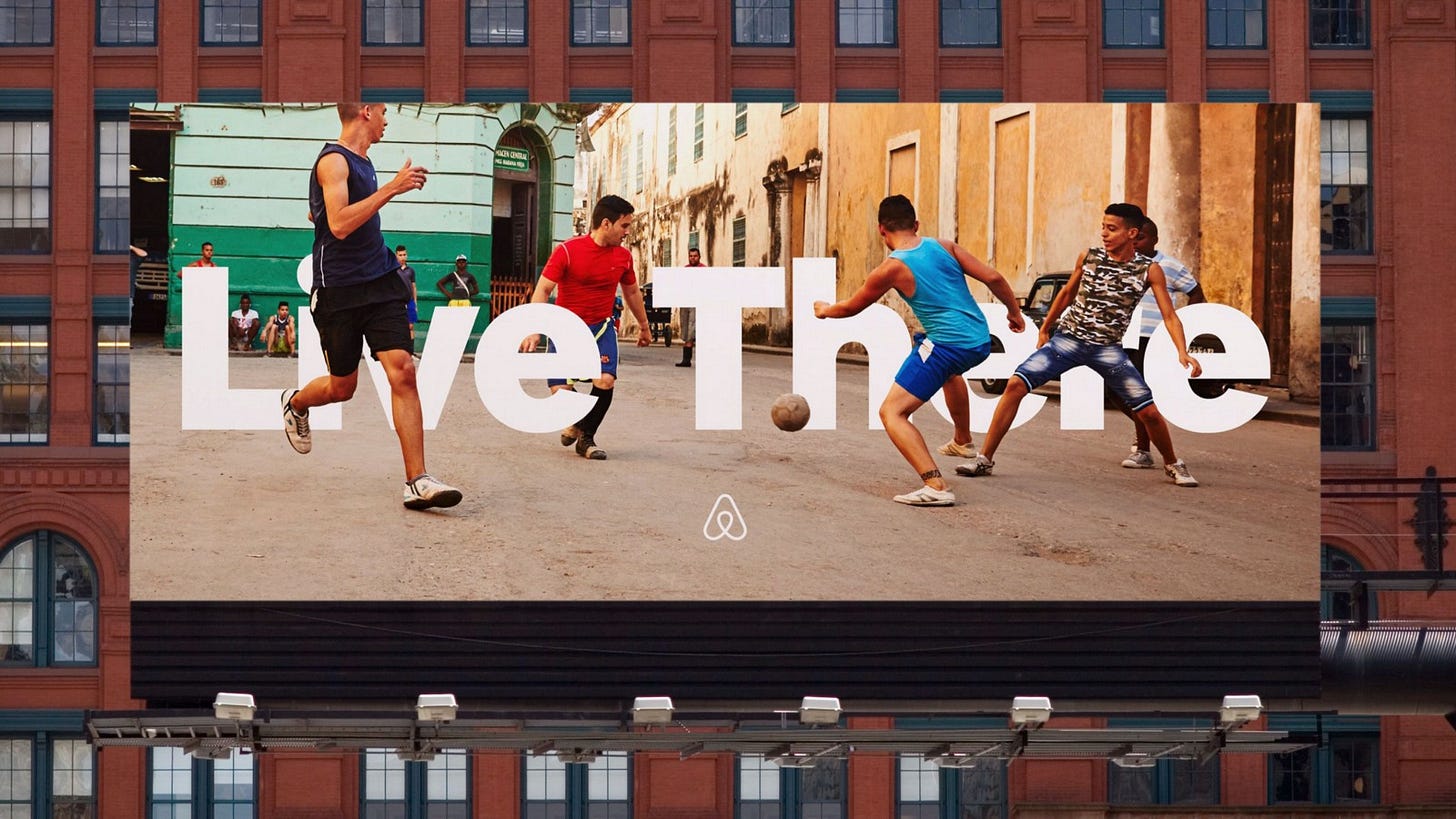 Airbnb Billboard, source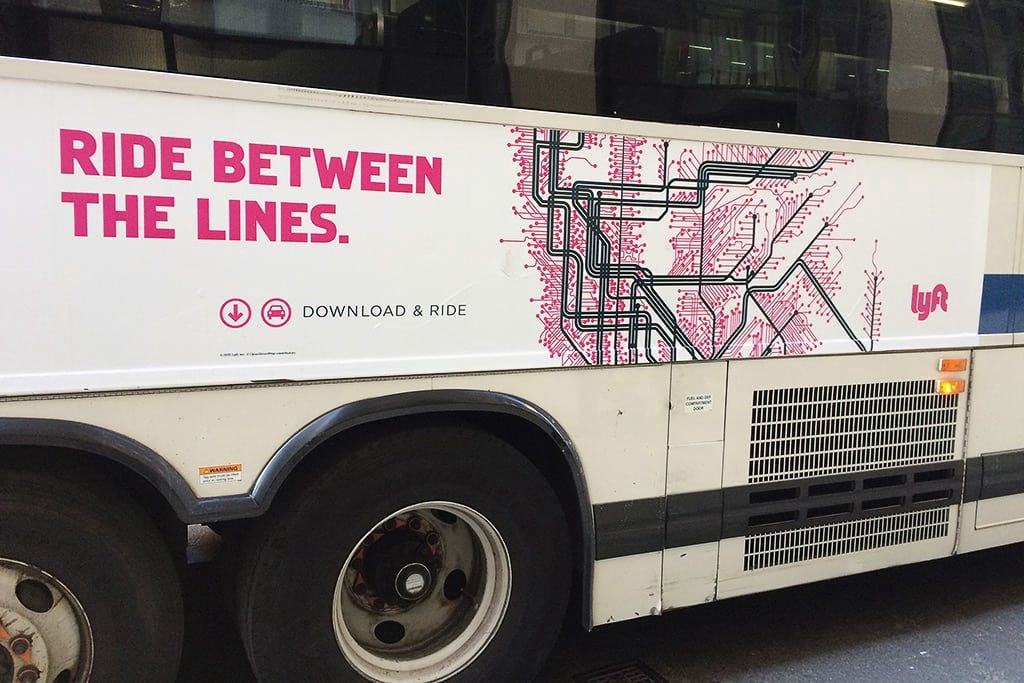 Lyft bus ad, source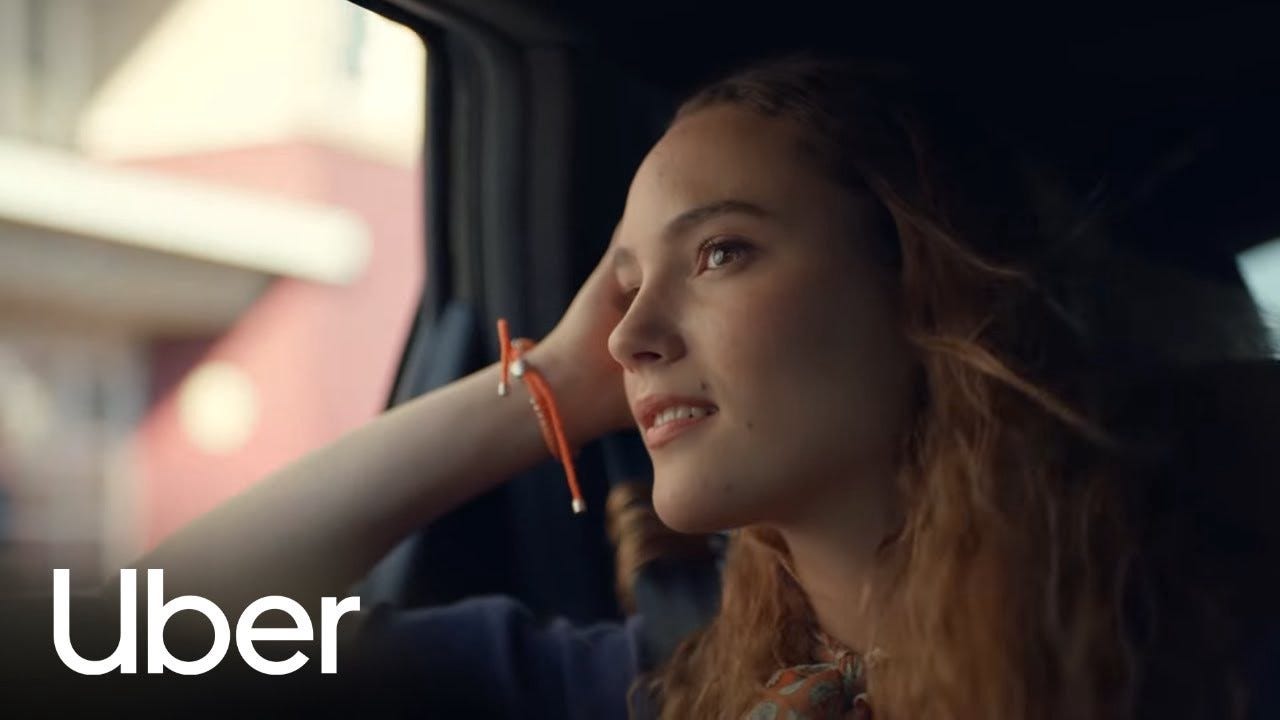 Uber TV commercial, source
Tips:
Don't expect to ever be able to measure the impact. Because you won't.

The main benefit is generally brand-building.

Do something unique and noteworthy.
Question: Are your potential "hosts" watching the same (ideally not super-popular) media or passing through the same physical parts of town?
---
Tactic #15: Run affiliate marketing 📝
What: Incentivize content producers to send you traffic by paying them for every member they refer.
Stage: Mid/Late
Cost: Small/Medium
Impact on Airbnb supply growth: Small
Examples: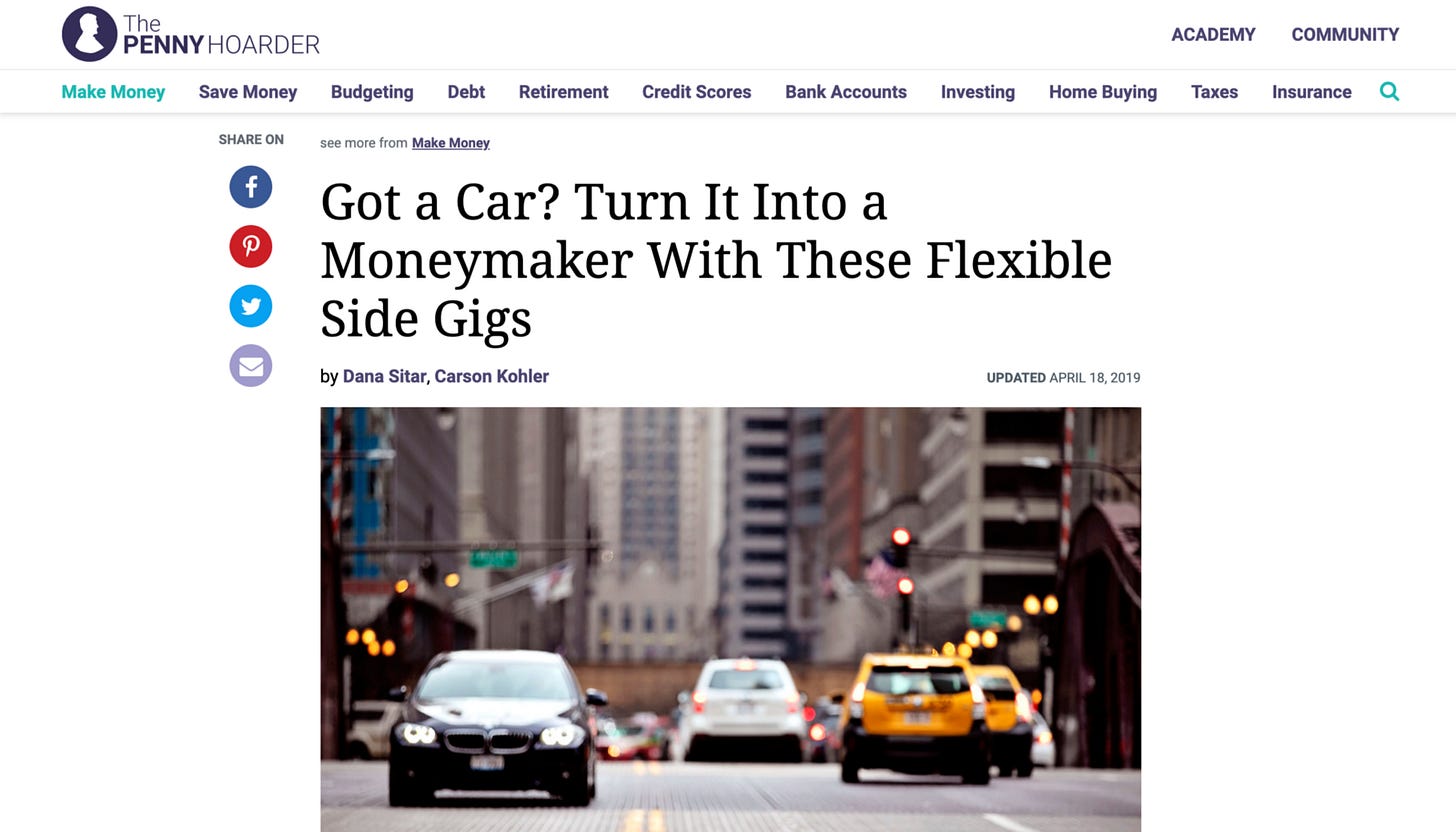 Affiliate marketing for Uber/Lyft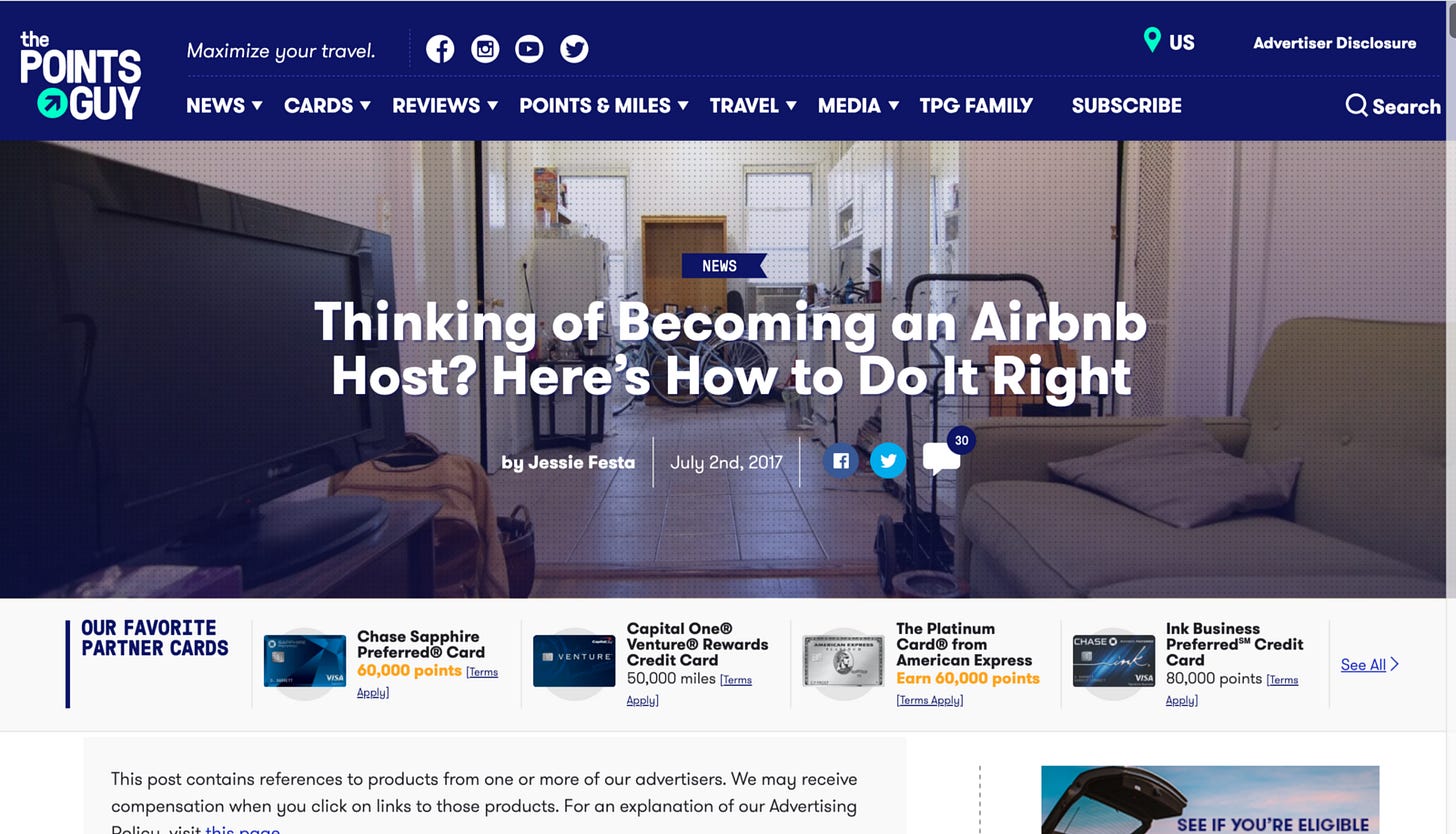 Affiliate marketing for Airbnb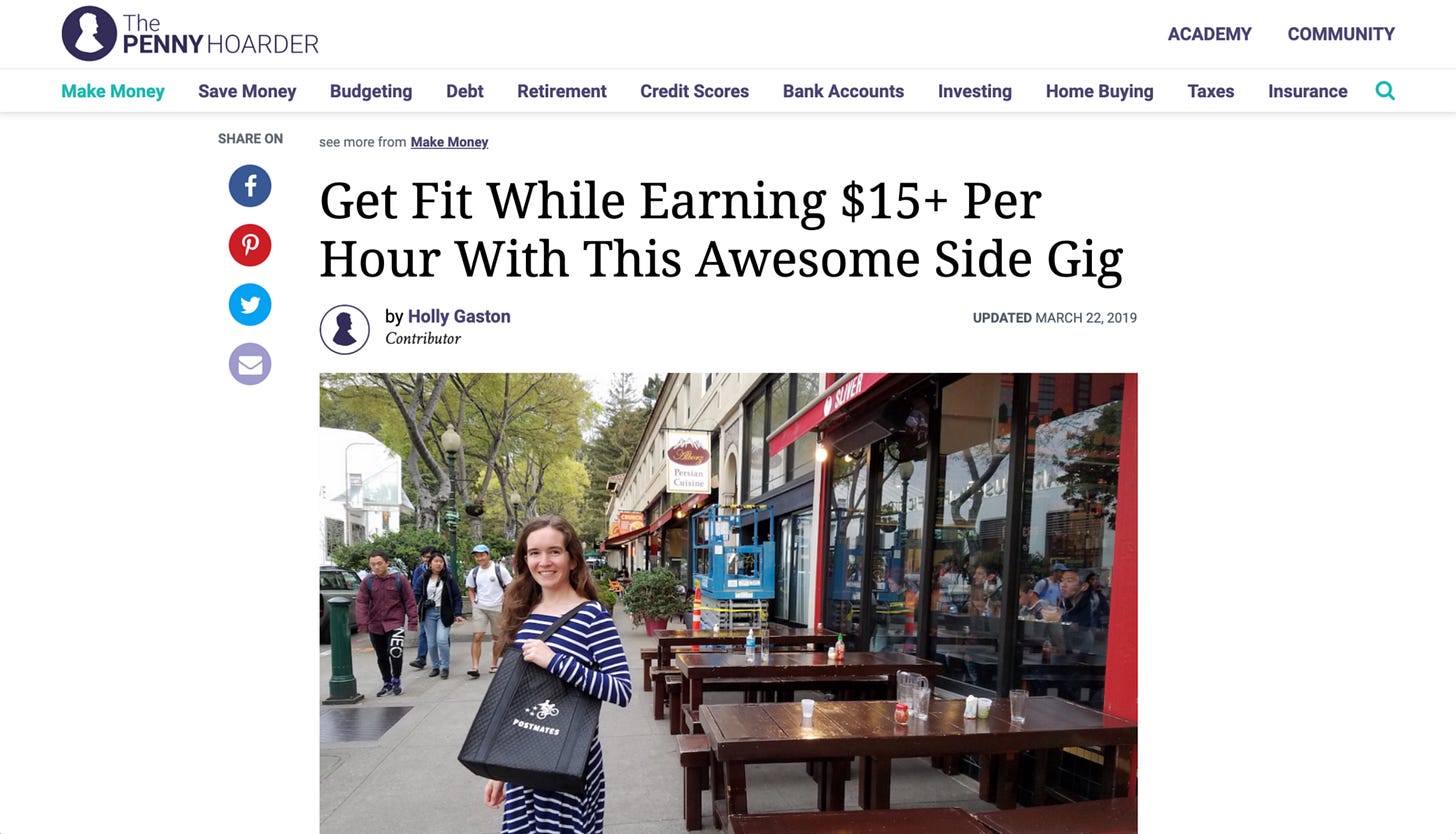 Affiliate marketing for Postmates
Tips:
Takes very few people to operate, should pay for itself from day 1.

There are companies out there that do a lot of the heavy lifting for you.

Make sure to have brand guidelines that content creators must follow, otherwise the content ends up being bad.
Question: Are your competitors doing affiliate marketing?
---
Tactic #16: Send direct mail 📬
What: Send potential "hosts" physical mail, pitching them on your platform.
Stage: Always
Cost: Medium
Impact on Airbnb supply growth: Small
Examples: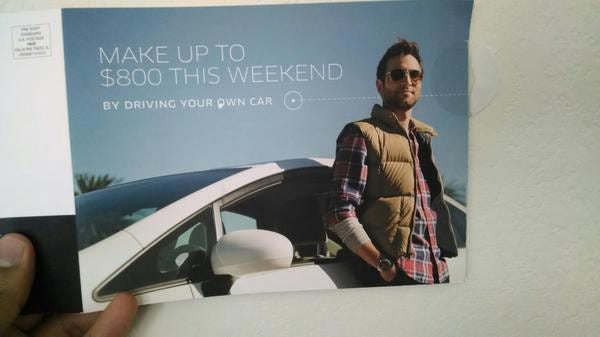 Tips:
This is an under-appreciated channel.

Tricky to measure, but possible.

Check out Lob to make this super easy.
Question: Is this a channel your competition hasn't tried yet?

Tactic #17: Optimize conversion 📈
All conversion optimization should start with user research. The biggest gains in optimization don't come from brute-force A/B tests, but from trying to understand the real barriers to people using your product. For example, early at Airbnb we realized that the biggest hurdle for new hosts was knowing how much to charge for their space. So we built price guideance into the flow.
What: Improving the percentage of people that start publishing that actually finish it.
Stage: Start early, and continue iterating
Cost: Small
Impact on Airbnb supply growth: Medium
Tips:
Top-of-funnel levers will generally be orders-of-magnitude higher impact than any mid-funnel levers like this one, but early on are often low-risk big-wins. Later-stage, you can continue to squeeze % point's of growth for a while.

Figure out which part of the conversion funnel is the biggest issue, and focus all of your efforts there. Be careful spreading yourself too thinly across the entire funnel.

In my experience, a big redesign of the flow often ends up hurting conversion.
Question: Which part of the funnel is most important to improve, and what are three things you do to improve this?
---
Tactic #18: Send re-engagement emails/pushes 📩
What: Emailing users that didn't complete publishing, encouraging them to finish.
Stage: Always
Cost: Small
Impact on Airbnb supply growth: Small/Medium
Tips:
You'll get most of the win by simply having an email, and then quickly hit diminishing returns once optimizing it a few times.

Don't be afraid to send a few reminders.

Make the CTA extremely clear.
Question: What's one helpful thing you can suggest to bounced users to re-inspire them?
---
Tactic #19: Make re-engagement calls 📞
What: Calling users that didn't complete publishing, encouraging them to finish.
Stage: Early-stage for B2C, an evergreen lever for B2B
Cost: Medium
Impact on Airbnb supply growth: Small
Tips:
Always ask users why they didn't finish the process — this should inform your roadmap and processes.

Early on you can use this as a customer development opportunity.

Long-term, measure the ROI to make sure it's worth the time.
Question: Which bounced users appear to be the most valuable and worth a call?

Tactic #20: Optimize activation 🥳
When I think about the ROI of things that you can do in a business, make certain that your customer is safely handed from acquisition to the activation. Make certain that they are activated and you have done everything in your power in order to make certain they have found their "Aha" moment and they have began habit forming.

— Shaun Clowes, CPO at Metromile
What: Getting new users to a key milestone that you believe is important for long-term retention. This is sometimes called the "aha" moment.
Stage: Early/Mid-stage
Cost: Small
Impact on Airbnb supply growth: Small/Medium
Examples:
At Airbnb, an activation was getting a new listing to its first booking within the first month.

At Uber, an activation was completing the first ride.
Tips:
First, you need to figure out what milestone is key to a new "hosts" long-term success. It's rarely an exact science.

Goal your supply teams on reaching this point, vs. simply when they go live.

Adjust this milestone if you learn something new down the road.
Question: What's the one most impactful thing a "host" can do to improve their chances of getting booked?
---
Tactic #21: Optimize retention 🔐
Retention is the core of your growth model and influences every other input to your model. This is important because if you improve retention, you'll also improve the rest of your funnel.

— Brian Balfour, Founder/CEO of Reforge
What: Increasing the percentage of new users that stick around for at least X months.
Stage: Always
Cost: Small
Impact on Airbnb supply growth: Medium early-stage, Small late-stage
Examples:
Tips:
In my experience, it's difficult to significantly impact retention head-on. The key is that your product/service needs to continue to be genuinely useful. Make it more useful and retention will grow.

Track retention by cohort, vs. globally.

Make sure to capture data on why people leave, to inform future work.
Question: What is the single most common theme in why "hosts" leave, and what can you do about it?
---
Tactic #22: Expand existing supply 🤲
What: Convince existing successful "hosts" to increase the number of units they offer.
Stage: Always
Cost: Small
Impact on Airbnb supply growth: Small
Examples:
An Airbnb host buying additional properties to manage.

A Hipcamp host adding additional campsites.

An Outschool teacher offering additional classes.
Tips:
This can be one of the biggest growth drivers for certain businesses, don't underestimate the potential here.

In some cases, this is going to be easy (e.g. online classes), in some very hard (e.g. homes).

Educate users on what kind of new supply would be most successful. Channel their excitement and point them in the right direction.
Question: Have you actually talked to your successful "hosts" about adding additional supply?

Strategy #1: Increase benefits, reduce costs ⚖️
What: Potential "hosts" will do mental calculus when considering signing up: is the cost (e.g. work, risk) worth the benefits (e.g. money, status). Make a list of ways to increase the benefits and reduce the costs, do them, and share this clearly.
Stage: Start on day 1, and continue iterating
Examples:
Airbnb — Reduce costs: Host Guarantee, free photography

Airbnb — Increase benefits: Guaranteed revenue, online payments

Uber — Reduce costs: Car leasing, guaranteed income

Uber — Increase benefits: Choose when to get paid, flexible hours
Tips:
Building it won't be enough, make sure to make it clear what you do for your users to increase benefits and reduce cost.
---
Strategy #2: Single-player mode 🦸‍♀️
OpenTable sold software to restaurants that created value for them without requiring any diners on the "buyer" side of the marketplace. They built a unique table management and CRM product (the "Electronic Reservation Book") and charged a subscription fee for the service. The initial benefit to restaurant customers was the software. Once OpenTable acquired hundreds of restaurants in a city, they started to have a compelling diner value proposition.

— Eli Chait, ex-Director of PM at OpenTable
What: Make the platform to "hosts" useful even when there is no demand.
Stage: Early-stage
Examples:
OpenTable: Simplified reservation management for restaurants

Eventbrite: Created free web pages for your event
Tips:
In most marketplaces, supply is king, so your single-player-mode should generally be focused on the supply side.

This won't be possible for every marketplace.
---
Strategy #3: Get to critical mass 💥
Our co-founder Nate Blecharczyk is highly quantitative and had determined that 300 listings, with 100 reviewed listings, was the magic number to see growth take off in a market. Observing New York, Paris, and a few other top markets, we saw a step-function change in the rate of bookings growth at 300 listings, the point at which guests had enough options to find a listing that matched their tastes and their travel dates.

— Jonathan Golden, first PM at Airbnb, partner at NEA
What: There is a point at which you have enough supply that you see an inflection point in demand conversion — estimate it and get your supply to that number.
Stage: Early-stage
Examples
Tips:
Don't overthink it. Figure out a milestone enough people believe within the org, and use it until you can figure out something better. It's more important to have something good-enough than to have nothing.
---
Strategy #4: Bootstrap trust 🤝
We looked at people's willingness to trust someone, based on how similar they are in age, location, and geography. The research showed, not surprisingly, we prefer people who are like us. The more different somebody is, the less we trust them. That's a natural social bias. What's interesting is what happens when we add reputation to the mix — in our case with reviews. When you have less than three reviews, nothing changes. But if you've got more than ten, everything changes. High reputation beats high similarity. The right design can actually help us overcome one of our most deeply rooted biases.

— Joe Gebbia, Co-Founder of Airbnb and CPO
What: At first all you have is new supply, but users have no reason to trust it. Give them reasons to trust.
Stage: Early-stage
Examples:
Airbnb: Early employees were given credit to travel for free as long as they left reviews for new hosts.

Airbnb: Make the supply look great, e.g. free photography, structured data with limited customization.

Airbnb: Reduce risk, e.g. Handle payments online, Host Guarantee, 24/7 support.
---
Strategy #5: Internationalization ⛩
Internationalization is a challenge and risky. But tech companies need to be global to win. It's about the right strategy and answering the right questions at the right time. Not going international is a wasted growth opportunity.

— Georg Bauser, ex-International Expansion at Airbnb
What: Make your site and experience work outside of initial native language/culture. This includes building out translations, local payment types, customer support in those languages, and often people on the ground getting things rolling.
Stage: Mid-stage
Examples:
Tips:
International expansion is often one of the major inflection points for growth accelerating, so time it wisely.

Pick the markets you want to win and go big there, vs. going broad immediately. It's hard enough to win one market.

This often requires doing things that don't scale at first.
---
Strategy #6: Segment supply 👩‍🌾 👩‍✈️👩‍🔬
Early on Airbnb presented only one image of itself to hosts. Many types of hosts deemed the platform unsuitable, but opening ourselves and marketing to business travel hosts and luxury home hosts gave those hosts a message they wanted to hear. They could host the types of guest they felt were suitable for their property. This allowed us to onboard inventory we previously couldn't, and gave existing hosts more optionality in how they marketed to and serviced those guests.

— Marc McCabe, ex-Head of Airbnb for Business
What: Determine what categories of supply you have and/or want, and dedicate teams to growing that type of supply. Generally, different categories require very different tactics, skills sets, and operating cadences.
Stage: Mid/Late-stage
Examples:
Airbnb: Private homes, vacation rentals, luxury home.

Uber: Black cars, individual car owner, scooter.

eBay: Individual sellers, brick and mortar stores, wholesalers.
Tips:
When introducing a new class of supply, there are many important considerations, including making sure you have a team whose ass is on the line for making this supply successful, making sure the demand side is set up to convert this new supply well, and avoiding overly diluting your marketplace differentiation.

New segments often appear organically, and it's up to you to decide if (and when) you want to double down on segment, or squash it.

For the more professional segments, you'll likely need to build advanced tools and integrations in order to fit into their existing workflows.
---
Final thoughts
Looking back at my time at Airbnb, a few things become clear. One, there were no silver bullets — success came from many wins building on each other. Two, most things we tried didn't have an impact — but enough did. Three, it all only made sense in hindsight. My advice to you as you navigate scaling your marketplace is above all else, stay focused on providing value to your users. Their success will make or break you. Beyond that, avoid spreading your team too thinly across many tactics (aka focus), double down on the things that show promise (aka focus), and never lose sight of your north star (aka focus). Also, focus.
For more writings about growth, product, management, and related topics, make sure to subscribe to my new newsletter and hit me up on twitter.
Sincerely,
Lenny
Thank you Andrew Chen, Gustaf Alströmer, Jonathan Golden, Fatima Husain, Marc McCabe, Dan Hill, Kati Schmidt, and Georg Bauser for reviewing early drafts of this post and contributing great ideas. 🙏