Discover more from Lenny's Newsletter
A weekly advice column about building product, driving growth, and accelerating your career.
Over 553,000 subscribers
The Secret to a Great Planning Process — Lessons from Airbnb and Eventbrite
An excerpt from a new essay about yearly and quarterly planning just published by First Round Review
Hi friends!
As a break from our regularly scheduled programming, I've got a new long-form essay out, in collaboration my good friend Nels (who led finance and then global revenue strategy for many years at Eventbrite). In it, we share everything we've both learned about running a yearly (and quarterly) planning process — including plug-and-play templates, common pitfalls, and some fun stories. Check it out, and let me know what you think! 🙏
Below is an excerpt from the essay. You can find the full article here.
---
An excerpt from the First Round Review article by Lenny Rachitsky, a former product lead and head of consumer supply growth at Airbnb, and Nels Gilbreth, former Head of Global Revenue Strategy at Eventbrite.
It's almost the end of Q3, which means annual (and quarterly) planning is just around the corner. If you're like most people, this sentence just filled you with dread.
We've been through dozens of planning cycles after spending 10 years at Eventbrite and seven years at Airbnb, so we've seen firsthand how messy and challenging it can be. Sometimes we were still working on our annual plan — three months into the year. Other times a half-assed plan was rushed through approvals, only to be abandoned entirely after only six months. For most of us, by the time planning ends we're left with bruised egos, misaligned plans, and a lack of buy-in.
On the flip side, we've also seen the power of a great planning process. In one case, a single team took it upon themselves to consistently stay ahead of planning. They were always ready to rock and roll on day one of the quarter, and as a result delivered significant impact more quickly (and with higher morale) than anyone else.
Planning is hard because it's inherently different from other exercises your organization takes on. Rather than focusing on day-to-day execution, it requires a large number of people to think about a variety of possible futures, align on one single future, and then plot a concrete course to get there. Taking this on for your own personal goals (for example, a New Year's resolution), feels challenging enough — doing this with dozens or thousands of people can feel nearly impossible.
You can't expect the organization to "just know" how to pull together a quarterly plan. Working without an agreed-upon framework can often be a recipe for disaster.
Below we'll share a system that we call the "W Framework." We hit on this idea after leaving our respective orgs and reminiscing on our experiences coordinating large numbers of people to drive collective impact. We realized that the root cause of nearly all bad planning processes is very simple: a basic lack of understanding of roles — who is responsible for what, when. For example, who should have a say in the plan, and when? What exactly does each stakeholder need to deliver, and to whom? Who sets the timelines? Who holds everyone accountable? And who makes the final call? These questions are too often left unanswered, which leads to chaos and disappointment during the planning process.
The framework is made up of four steps:
Context: Leadership shares a high-level strategy with Teams

Plans: Teams respond with proposed plans

Integration: Leadership integrates into a single plan, and shares with Teams

Buy-in: Teams make final tweaks, confirm buy-in, and get rolling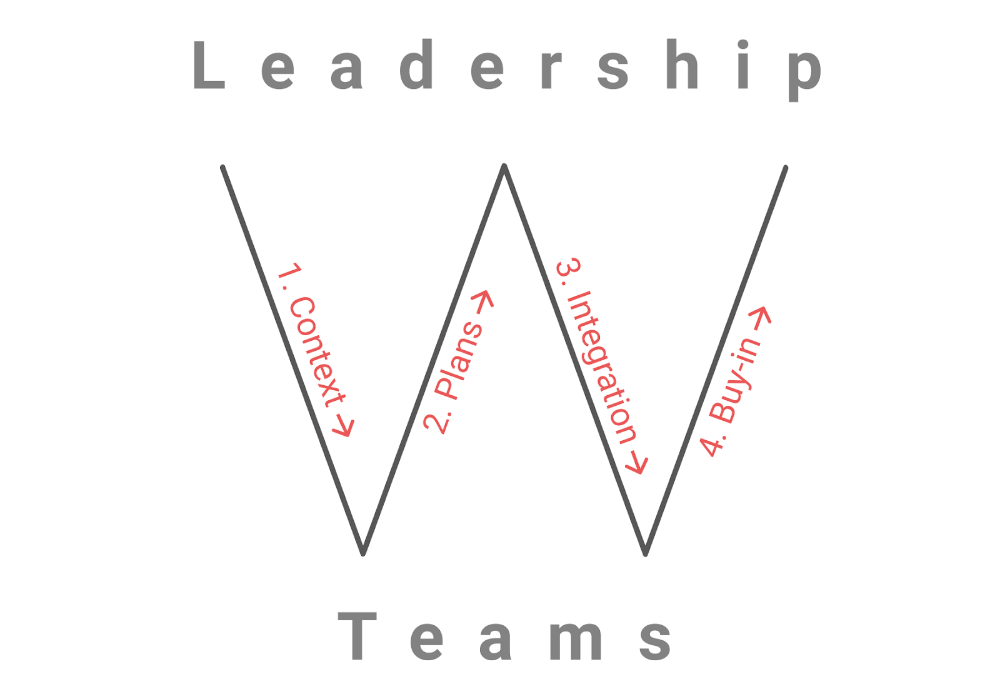 Sincerely,
Lenny (and Nels) 👋