Discover more from Lenny's Newsletter
A weekly advice column about building product, driving growth, and accelerating your career.
Over 553,000 subscribers
This Week #8: Splitting equity with late-joining co-founders, favorite roadmap templates, and small changes that improve your org
With special guest contributor Hunter Walk!
Hello and welcome to my humble newsletter, where I attempt to answer your questions and offer candid advice about building product, driving growth, working with other humans, and anything else that's stressing you out at the office 🤝
If you're returning from last week, thank you! If you're new, nice to have you! Help spread the word by telling your friends 🙏
New this week: Special guest contributor Hunter Walk 🔥🤩🤯 answering one of your questions! Also, watch out for something very special coming next week.
On to this week's questions…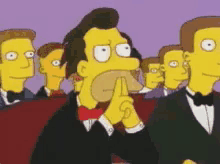 ---
Q: I have bootstrapped my startup to our recently launched MVP by using paid contractors, and I'm now looking to bring in key team members (at least a CTO) as co-founders. Given that I have not raised any funds yet, one of the potential CTO candidates has agreed to join me on an equity basis. What do you recommend I offer the CTO candidate to demonstrate that I really want to work with him as a co-founder, but at the same time not make a decision that will deter potential investors (e.g. issuing him preferred instead of vested common stock for his work/contributions)?
Though I've had a bit of experience with this, I wanted to make sure you got as complete and accurate an answer as possible — thus, I turned to the man, the myth, the legend: Hunter Walk. Hunter is a partner (and co-founder) at Homebrew, former PM at Google (AdSense, YouTube), has personally worked with over a hundred early-stage startups, and has shared a few strong perspectives on equity splits. He generously offered to share his perspective on your situation:
—
Congrats! Bringing on a key technical leader is a milestone that you should be proud of, and which will impress any potential investors. Your question around equity has a few components, but directionally you're exactly right:
What's the CTO's value? If they're a true cofounder, would you consider giving them equity starting around 10% of the company — all the way up to a share equal to yours? For a very early stage company, we see "late-arriving cofounders" all the time. Otherwise, senior engineers/founding team would usually receive 1-5% of the company. These are all averages and situations definitely differ.

The stock grant should be common shares with a standard vesting schedule. Even outside of investors, this will give you comfort that you have time to evaluate this new team member before handing away meaningful portions of your company. Any venture investor will likely begin a vesting schedule for you as well.

Given that they'll start work during the vesting period, the CTO might ask for something from you which signifies commitments — such as if they're terminated without cause pre-vesting cliff, that you grant them some negotiated amount of stock. In my mind, this seems fair. 
Good luck! Building a team and a culture is the best part of building a company!
—
Thank you, Hunter!
Q: What's your favorite roadmap template that you like to use?
Yes! Here you go! This is courtesy of my former Airbnb colleague, Andrew Chen (not that Andrew Chen), who had some of the most thoughtful and well-executed roadmaps of any PM I've ever worked with. I've tried a lot of different tools over the years, and I always find myself always coming back to Google Sheets 🤷‍♂️
Below is a peek, but make sure to check out the full template.
Option 1: Organized by lever (my preference)

Option 2: Organized by product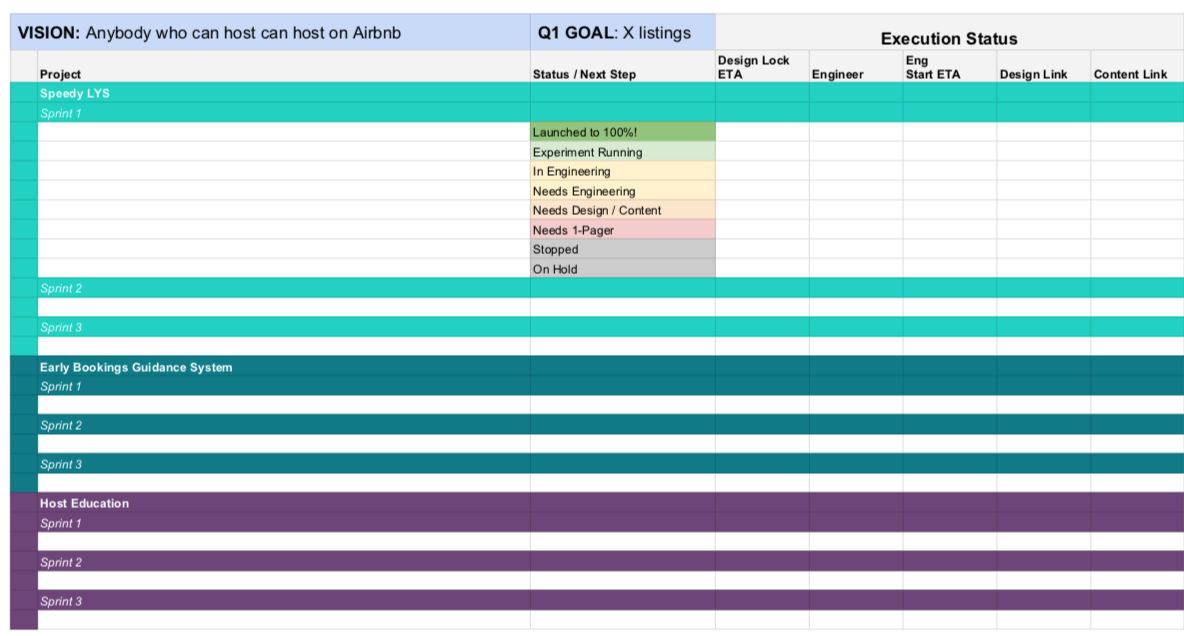 Bonus: A timeline per team member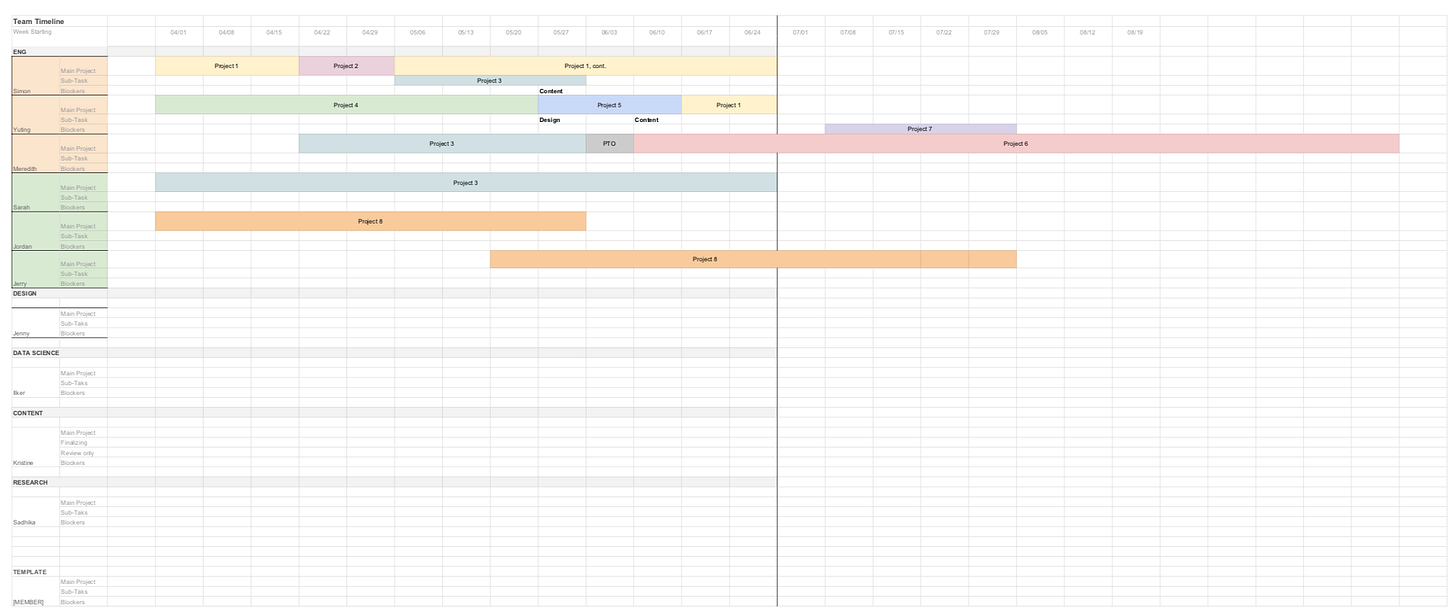 If you have something better, I'd love to see it! Reply to this email and share the wealth 🧐
Q: What's one thing you've changed within your organization that has made your team meaningfully more effective?
I asked this question of you all last week, and you delivered 💛 We got a boatload of great stuff (and also ended up rocketing to the top of the Substack engagement rankings 😬).
Here are your top ten highest rated ideas:
"Keeping track of every piece of customer feedback we receive, and then actually following up after we've made improvements to let people know they've been heard. I created a template in case anyone is interested in trying out our methodology." — Justin Hales

"Delivered monitoring/analytics with each feature implemented in the product. This made it easy to justify more budget by having a backlog of a pretty deep set of analytics by the time we were a few months into the project." — Jacob M

"After reading 'Trillion Dollar Coach', I liked the idea of 'Trip Reports'. So I introduced a variation of that in our team meetings. Every Monday morning, I asked the team to send me photos of their weekend/vacation. I collated it into individual slides and at the start of our team meeting, we went around the room talking about your photos! (15 mins). This had a positive impact on the team. We got to know each other as humans outside of work. We let our guard down before talking about work. Especially great for new starters!" — Saffad Khan

"I'm in an engineering first org, so I had to introduce product into our development processes in a valuable and non-intrusive way. I did this by introducing Product Discovery documents on topics that we want to address with the following structure." — Yehia Khoja

"We started to have 'monthly social events' -- a rotating set of activity-based events that each person on the team would host. Anything from MassVR to Game Show Game Show. The structure shifted a decidedly introverted team to become much more collaborative and for the newer folks on the team to ask others for help. This then set up a structure where we now have weekly "pod" meetings where various folks collaborate on technical design, coding, and strategy in a way that I never expected!" — Shashin

"Moving over to Basecamp instead of using Google Drive / Docs / Sheets." — Monica Banks

"(1) Daily Virtual Scrum over slack, where the team shares what are the things they are targeting to achieve that day. And at the end of the day, they share the status update against each line item they shared in the morning. It reinforces for the team to go through the allocated task, and think first thing in the morning, before they start executing, (2) Product Reviews every week/bi-weekly. We keep changing frequency based on the backlog, (3) We started writing the mission, vision, and strategy for the subsequent products that we are planning to introduce. It helped me personally to avoid many mistakes we did in the past based on this link where you shared, Lenny." — Vikram

"Created a deck on business terms used at our company that many may not be familiar with. Things like MRR, ACV, CAC, CTR, ASO, etc. The idea was to enable everyone to be more proactively involved in discussions whenever these terms are thrown around. Now we showcase this deck to every new joinee at the company during their onboarding! Public link to the deck." — Sudeep Shukla

"Normally developers would do a 'Technical Conception' before a project begins, and that would take a few days or weeks. What I now do as a Product Manager is a 'Pre-Technical Conception & Legacy study', where I:

Study the legacy product where the team will have to work on. I study all functional aspects, write documentation (super important) to keep track of my studies,and explain how the features & logic work.

While studying the function, I also take time to note down all technical aspects that I can understand (ex: database structure of this functional perimeter, API calls during feature interactions, workflow, etc) or any leads/suggestions I can give to the developer so that can help them do the Technical Conception faster.

This is a totally new process I created in my team & company. Not only did it benefit a lot the team, but it made the project deliveries significantly faster by making the developers obtain knowledge in advance and do very fast Technical Conceptions.

Our development time of projects went 300% faster." — Chaz

"After reading 📚 UX for startups and other UX books in my first 2 weeks after joining the startup, we experimented with setting aside a day where all engineers 👨‍💻 focused on a certain list full of UX annoyances (not bugs) then send out an email with all improvements as we ate pizza 🍕 while solving them

🚨On D-day, there was only 1 engineer who was available because the rest had emergencies.

We (me as UX & Front-end of course after discussions with the PM) moved the tickets from: 'Design in progress' 👉'Ready for Dev' 👉 'In Progress' 👉 'Code Review' 👉 'QA' 👉 'Done'

🎉We managed to address 10% of all the UX annoyances.

After reflecting with the team 🧠, because we work in an agile way, we all decided that for every sprint ♺, we will be picking 1-2 UX Annoyances 😡 and adding them to the Backlog.

This was a victory for the team! 🙌 Now we are not just looking at Painkillers (PM vs UX) but also Vitamins!" — Lewis Kang'ethe Ngugi
Thank you all for your ideas! Read the full list here, share yours if the mood strikes.
That's it for this week!
Inspirations for the week ahead
Read: Beyond Coffee — A Sustainable Guide to Nootropics, Adaptogens, and Mushrooms. Written by James Beshara (of Tilt, and Below the Line podcast fame), and just released today. It's the most informative, well-research, and digestible (pun intended) read on these substances you'll ever find. 🧠

Watch: Advice on Organizing and Running Growth Teams from Dan Hockenmaier and Gustaf Alströmer. This video is from earlier this year but I just discovered it, and was super impressed with how much damn wisdom it has packed into it. 📈

Subscribe: Nonzero Newsletter by Robert Wright. Wright wrote some of my favorite books, like Why Buddhism is True and Nonzero, so I was rather excited to find that he has his own Substack now. And it's awesome. 🤓
---
If you're finding it valuable, please share this newsletter with your friends.
And if you'd like some advice yourself, or just want to say hi, just reply to this email. I'll tackle three reader questions each week (keeping your name and company anonymous) until you quit sending me questions. I definitely won't have all of the answers, but hey, it's free 🤷‍♂️
Sincerely,
Lenny 👋