Hiring your early team
Part six of my seven-part series on kickstarting and scaling a B2B business
👋 Hey, I'm Lenny and welcome to a 🔒 subscriber-only edition 🔒 of my weekly newsletter. Each week I tackle reader questions about building product, driving growth, and accelerating your career.
---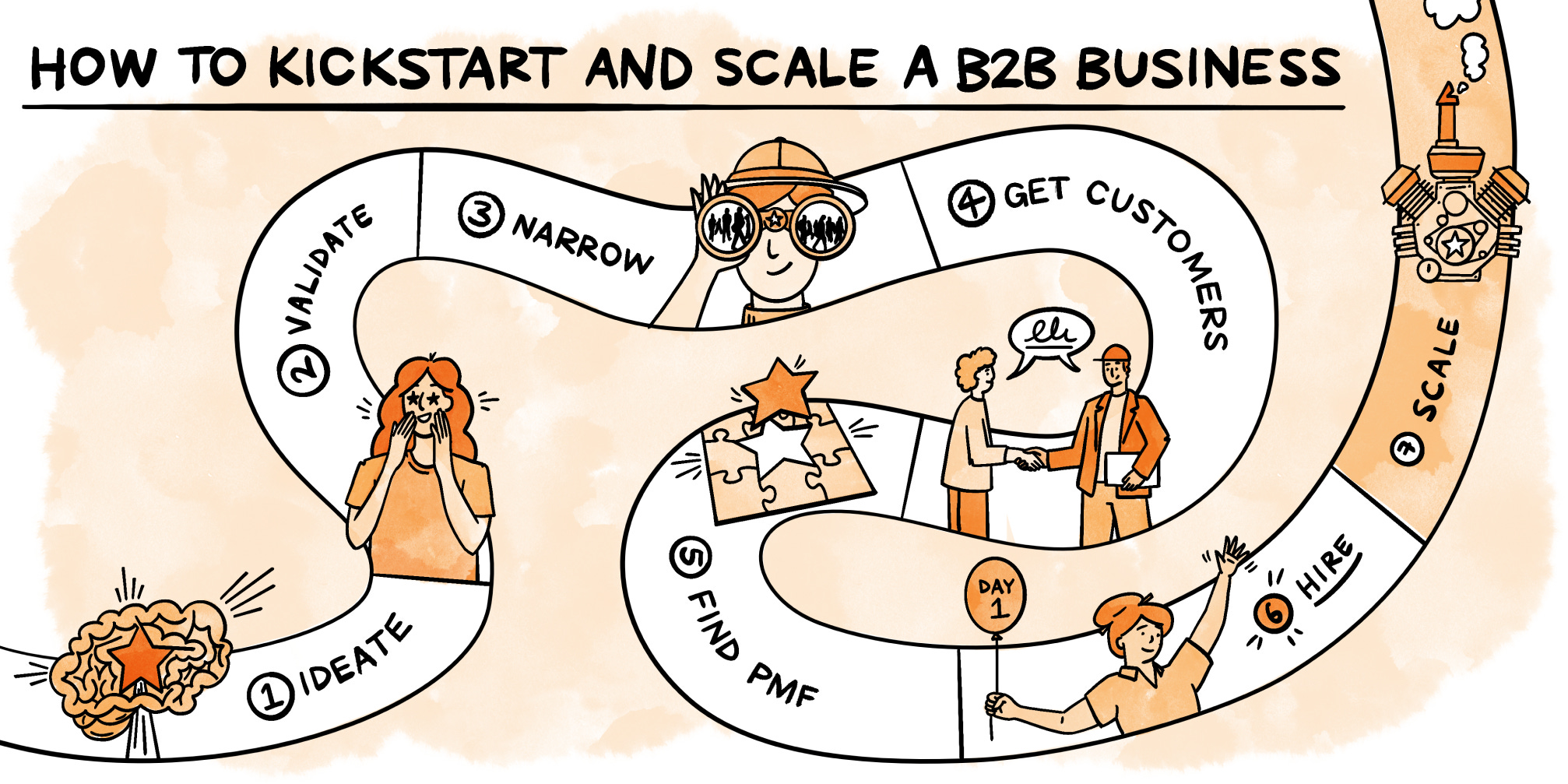 Welcome to part six of our ongoing series on how to kickstart and scale a B2B business. Here's where we're at:
A huge thank-you to Akshay Kothari (COO of Notion), Ali Ghodsi (CEO of Databricks), Andrew Ofstad (co-founder of Airtable), Barry McCardel (CEO of Hex), Boris Jabes (CEO of Census), Calvin French-Owen (co-founder of Segment), Cameron Adams (co-founder and CPO of Canva), Christina Cacioppo (CEO of Vanta), David Hsu (CEO of Retool), Eilon Reshef (CPO of Gong), Eric Glyman (CEO of Ramp), Guy Podjarny (CEO of Snyk), Jori Lallo (co-founder of Linear), Julianna Lamb and Reed McGinley-Stempel (co-founders of Stytch), Keenan Rice (founding team), Mathilde Collin (CEO of Front), Rick Song (CEO of Persona), Rujul Zaparde and Lu Cheng (co-founders of Zip), Ryan Glasgow (CEO of Sprig), Shahed Khan (co-founder of Loom), Shishir Mehrotra (CEO of Coda), Sho Kuwamoto (VP of Product of Figma), Spenser Skates (co-founder and CEO of Amplitude), Tom Preston-Werner (co-founder of GitHub), and Tomer London (co-founder and CPO of Gusto) for contributing to this series. Art by Natalie Harney.
---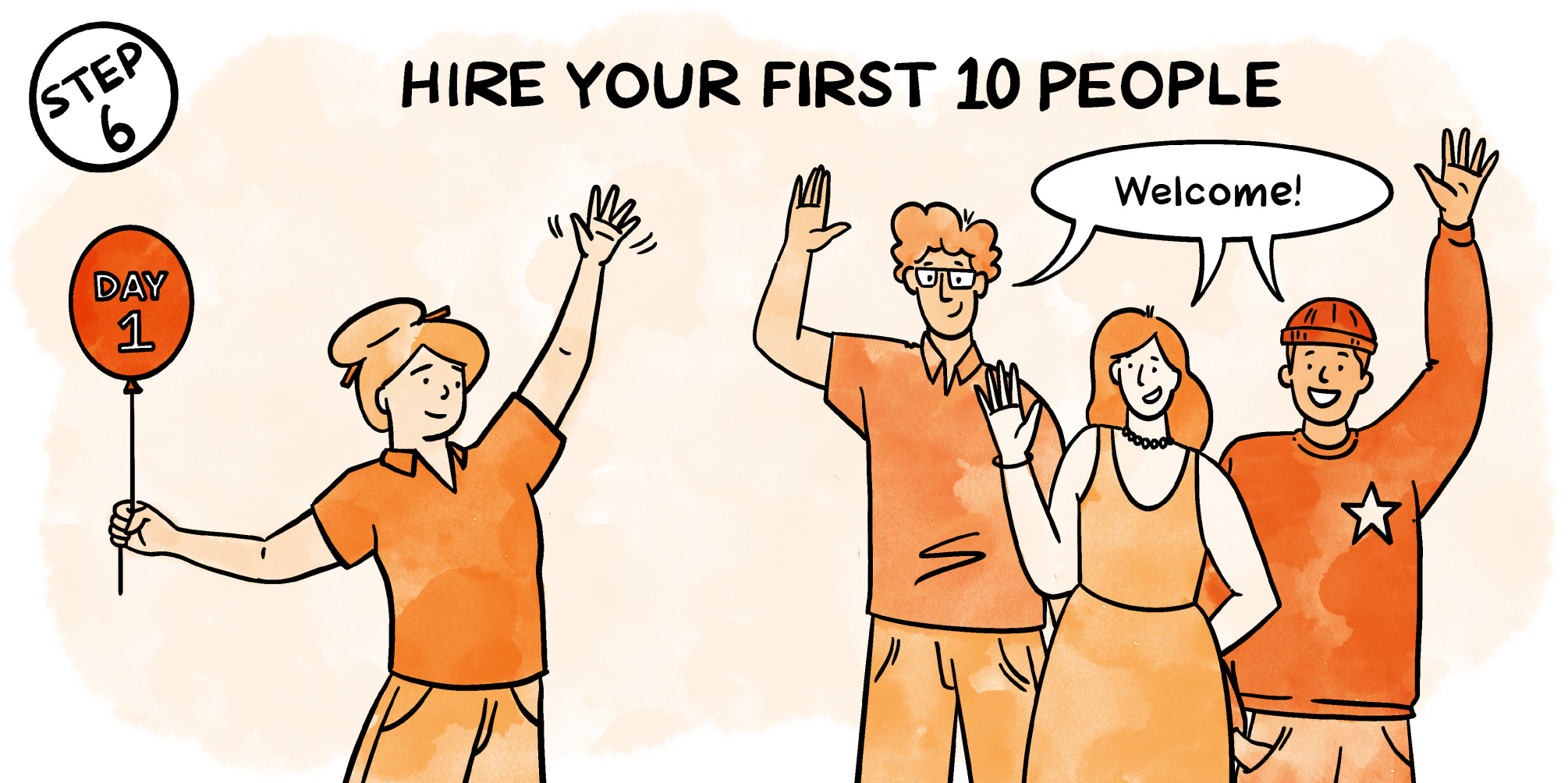 For this step, I'll focus on the four most common hiring questions I get from early-stage founders:
Who should I hire first?

Where do I find them?

How do I convince them to join?

When should I hire a salesperson (and what should I look for)?
1. Who to hire
I asked all the founders I interviewed who their first 10 hires were: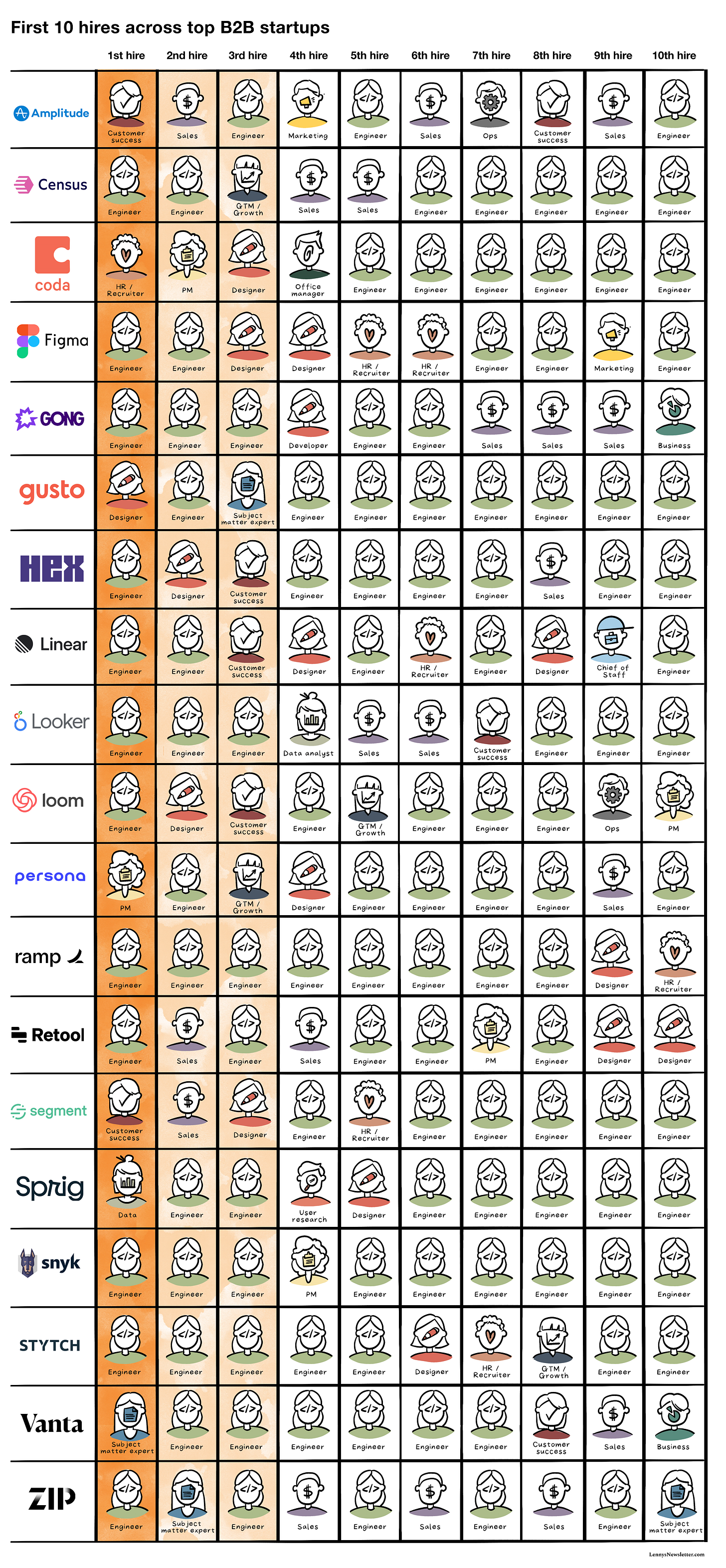 Let's break this down by your first hire, first three hires, and first 10.
Who to hire as employee #1
Takeaway: Developers, developers, developers, developers. Over two-thirds of the companies hired an engineer as employee #1. Not a big surprise.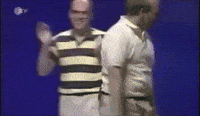 In the rare case when an engineer wasn't the first hire, it usually came down to the founding team having enough horsepower to build the V1.
"Having four founders who could stretch across the business helped a lot here. Each of us could write code, handle customer success, write product specs, and work across the stack." —Calvin French-Owen, co-founder of Segment
Founders were instead able to de-risk, or un-bottleneck, something else. Vanta hired a compliance subject-matter expert as their first employee:
"We could build, but we wanted the check on are we building the right thing, given our background wasn't in the space. The worst case would have been promising to get a company 'secure and compliant' and then failing to do so!"

—Christina Cacioppo, co-founder and CEO of Vanta
Coda hired a recruiter:
"I'd say that our first hires were all fairly typical, except for hiring a Head of Recruiting at such an early stage of development. It was earlier than anticipated, but a good friend introduced me to Kenny Mendes and said, 'I know it's early, but people like Kenny don't come along often, so you should probably pull him in.' That turned out to be a fantastic choice, as Kenny has turned out to be an amazing generalist and quickly became chief operating officer for us." —Shishir Mehrotra, co-founder and CEO
Sprig hired an AI data scientist, and Segment and Amplitude hired a customer success/support person as employee #1. Here's Calvin French-Owen (co-founder of Segment) on why they did this:
"There's something really magical when you write in to a startup and they fix your issue within a few hours. It's something you'd never, ever expect from a big company, and it was one way for us to differentiate. 

So initially, the four of us basically round-robined support. We'd log in to Help Scout and answer as many emails as possible. We'd switch off whoever answered the handful of Olark live chats that would pop in throughout the day. By the middle of the year, we were getting slammed with fairly technical support requests from users. They'd run the gamut from the relatively easy 'What analytics tool should I use?' to the more technical 'I'm running Python on App Engine; why aren't my events making it to Segment?'

To give us extra engineering bandwidth, Peter [Reinhardt, the CEO] spent about eight weeks handling all the support volume on his own. But it basically meant he couldn't do anything else. 

We wanted to find someone who could handle most of these requests on their own and synthesize any new requests. Jake [Peterson] (who we hired for the role) was a bit of a unicorn in that respect. He had run his own analytics consultancy that was focused on helping customers reduce their costs and had a little bit of technical ability to read code. He wrote good docs and authored a bunch of our early blog content.

Given the breadth of integrations we supported, and the fact that we had four technical co-founders, we hired early here."
The first three hires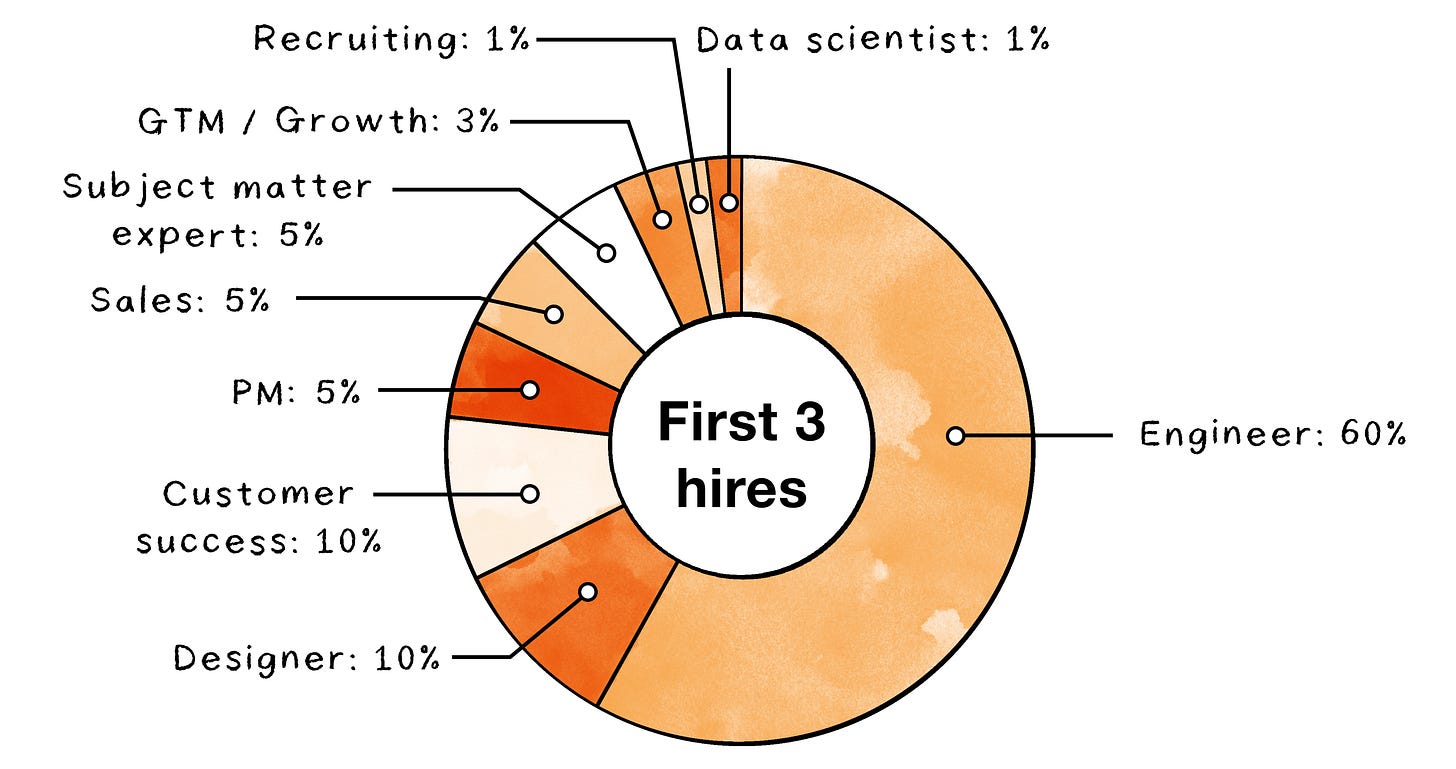 Takeaways:
Engineers continued to be the predominant function across the first three hires. Not shown in the chart, but 100% of companies hired at least one engineer among their first three hires.

Interestingly, customer success/support continues to be a popular role for the first three hires. Of the non-engineer hires, almost a quarter of them are customer success/support. For me, this ties directly to the core lesson from part five—get companies to love your product.

Subject-matter experts also continue to be a surprisingly common early hire, particularly for startups building in a complex regulatory-oriented market (e.g. Gusto, Zip, and Vanta).

Although only 10% of hires were designers, and this isn't shown in the pie chart above, over 40% of companies hired a designer in their first three hires, or had a designer co-founder.

Very few companies hired a salesperson among the first three.

Three companies hired a PM within their first three hires: Coda, Persona, and Snyk. Here's Guy Podjarny, founder and CEO of Snyk, on why they hired a PM so early:
"I believed the fact that security products weren't fit for developers was a product problem, not a tech problem, needing breakthroughs more in the UX world than tech algorithms. Furthermore, I had two technical co-founders that I knew would lead the security and tech aspects well, so felt I'm well-covered there. 

I could have done the product work myself (and in practice, I did a portion of it), but I wanted to free myself up to build the company as a whole, and not be too focused on one aspect of it. I did hire someone with deep UX skills, better than mine, who complemented me, not just offloaded work.

In general, I intentionally took the path of building a strong leadership team early on. It was always a very hands-on leadership team, who initially spent most of their time as ICs but were also building teams and practices. This is a personal choice, and many founders prefer to directly manage most of the team until it grows. For me, however, I perceive myself as a better leader and innovator than I am a manager, and I wanted to focus my attention there."
And here's Rick Song, founder and CEO of Persona, on hiring a PM as employee #1:
"We hired Vincent [Tsao] because Charles and I believed his professional experience and willingness to give it his all were a perfect fit. We would've wanted to work with him whether at Persona or elsewhere, and that speaks highly of our rapport. He had experience from a previous startup and understood the fluid nature of a company's early stages—he wasn't tied to a specific role, title, or set of responsibilities and understood that we were all going to do whatever it took to succeed. In fact, his very first project had nothing to do with product- he spent the first evening setting up payroll!

We also believe that many founders, in their eagerness to launch and iterate, often swing too far on the pendulum of no documentation or process. While Charles and I were confident in our product and market insights as well as our ability as engineers to create a MVP, we were also self-aware about our shortcomings. We knew we needed someone with not only sharp product intuition but also someone who could anchor our product operations and knowledge base, synthesizing insights from chaos and ultimately helping us move faster. Vincent was invaluable in building the foundation that enabled us to smoothly go from MVP to product market fit, and eventually, to scaling our team."
The first 10 hires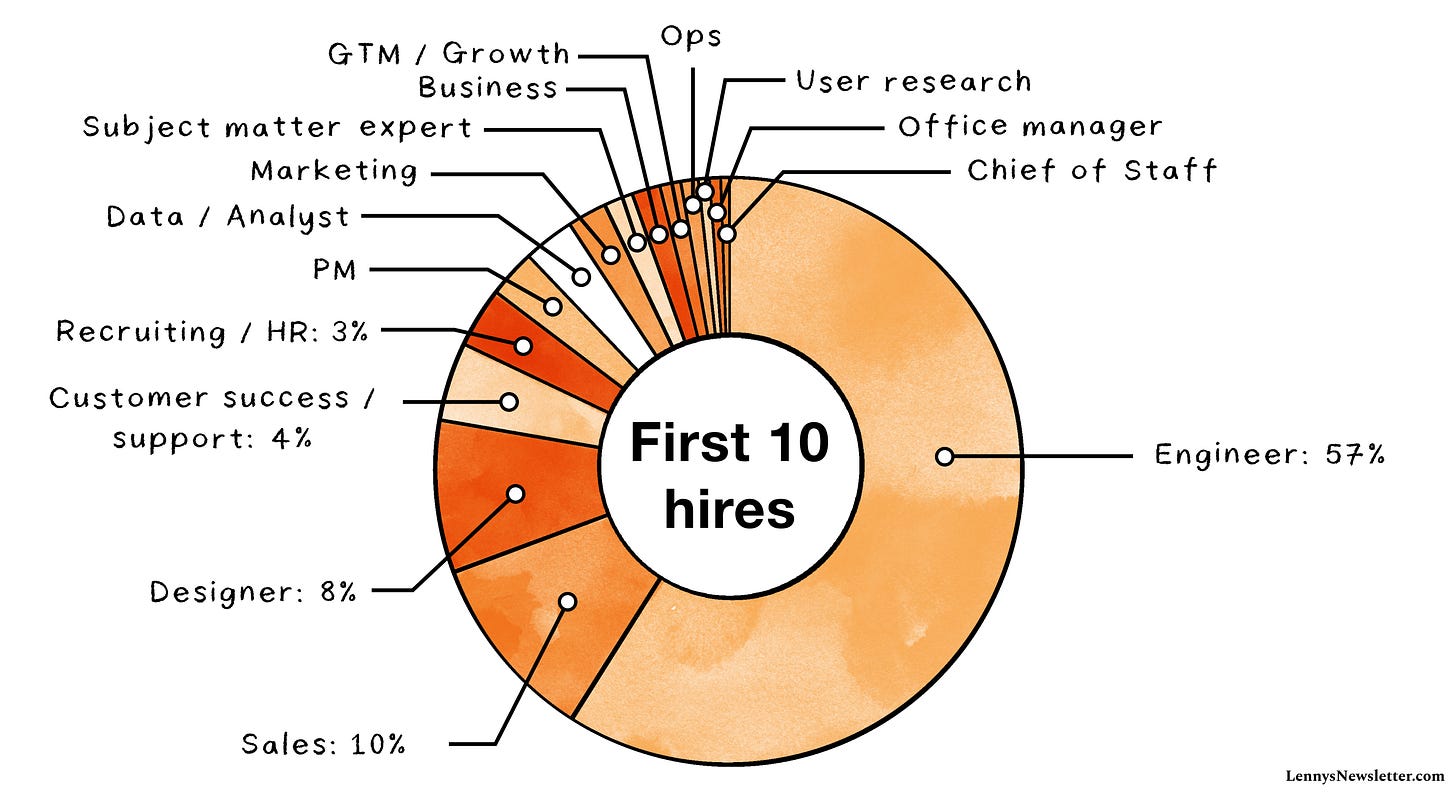 Takeaways:
Sales becomes the second most common hire, after engineering.

A quarter of companies hired a product manager at this point.

Recruiters become a surprisingly common hire. I did not expect that. This is particularly true across some of the most unique startups, like Linear, Figma, Ramp, and Coda. Here's Jori Lallo, co-founder of Linear, on why they hired a recruiter so early:
"Initially all of us three founders ran the recruiting process, and while it worked for a little while, it wasn't something we were necessarily particularly good at or passionate about. We cared about hiring the best people, not about the first person who came knocking at our door. Also, we didn't really have the tools or the time to reach outside our own networks, so we needed help to expand outside the inbound applicant pool.

At first we experimented with a couple of external boutique recruiting agencies, but it didn't feel natural. This was mainly due to a consulting recruitment model where incentives are often tied to closed hires, so the recruiters are incentivized to make the hires as fast as possible. This is good for growing the team fast but hard when you want to hire only the best talent. The best and most sought-after people are often hard and slow to hire, and the process looks more like leadership recruiting.

So building the function in-house and investing into it made sense to us. We probably weren't great at it at first but have since come a long way. Today we have a four-person recruiting function at a 50-person company."
2. Where to find your early employees
Once you have a sense of which roles to hire, how (and where) do you find amazing people? I asked each founder how they found their early employees. Their answers all fell into four channels:
Channel 1: Friends and former colleagues
Unsurprisingly, hiring friends and former colleagues was by far the biggest channel. This also in part explains why multi-time founders, and anyone with a large network (e.g. Y Combinator), have an advantage:
"All of our early hires were friends/ex-coworkers."
"First hires were practically all former colleagues. Several people who worked with me in my previous company reached out when they heard I was into something new, with my co-founder."
"About half the early hires came from my personal network (friends from school, ex-coworkers, etc.)."
"I thought about the hardest-working people I knew and reached out to them."
But not so fast. There's also a downside to this path, as shared by Segment and Linear:
"We tried for a long time to hire former classmates (we were fresh out of college, so had no former colleagues), but we had pretty rotten luck. Believe it or not, there was little appetite to join four crazy guys in a room who had been failing for two years straight :)" —Calvin French-Owen, co-founder of Segment
"We didn't end up hiring people from our past jobs, which might be more common for others. All of us founders worked for more established startups before Linear, and we looked for people who would do well in an early-stage environment. Among our first 10 hires were several founders (including two who had gone through YC). We still look for generalists and people with experience and who deeply care about their craft." —Jori Lallo, co-founder of Linear
Channel 2: Cold outreach
I was surprised to learn that the second most common channel for finding early employees is cold outreach—finding people you want to hire and reaching out to them directly. These outreaches happened mostly through LinkedIn and GitHub, and unlike channel #1, this is something anyone can do.
"We filled many roles through cold hard outbound on LinkedIn."
"We reached out directly to people (mainly engineering) that had significant public experience with parts of the product we were developing, i.e. visualizations."
"We had great luck finding people off GitHub. These were folks who had contributed to repos we were watching, and we had decent evidence that they were good. They didn't come from FAANG, they had solid contributions in open-source land, they paid a lot of attention to abstractions and were really productive. Most of them had worked at one or two prior startups, but in general we bet on people looking to make their next big leap."
Channel 3: Job boards
Also, surprisingly, a lot of early hires were found by posting roles on public job boards—again, something every founder can do. By far the most mentioned job board was AngelList. Also mentioned were Triplebyte, Facebook groups, and VCs' internal job boards. Shoutout: If you're looking for the best jobs in town, check out Lenny's Job Board! 😅
Channel 4: Friends and former colleagues of your employees
A final channel, which, if you recall, was also useful for finding your early customers, was tapping the networks of your early employees.
"Many of our early hires were people from my network or the network of the very first employees."
"Our second sales hire was a former colleague of our first salesperson."
I didn't get many interesting quotes for this channel, but it was a fruitful one for many founders, and worth spending time on.
3. How to convince people to join your startup
I actually researched and covered this in a previous issue, so go read that post. Here's the high-level summary of what you need to get right:
Captivating vision—Make it easy for candidates to visualize what you are building toward and to feel like their work will be meaningful.

A++ early team—The best talent attracts the best talent.

Put in the time—Be prepared to commit 50 to 100 hours for each hire you make.

Grow your network—It'll be an easier sell if they know you (or know someone who knows you).

Love bomb—Go the extra mile when trying to close a candidate:
"We see the actual offer stage as a big place you can stand out. We do a Zoom to surprise the candidate with everyone from their interview panel to share why they're excited about the candidate potentially joining."

—Julianna Lamb, co-founder and CTO of Stytch
4. When to hire a salesperson, and what to look for
Always start with founder-led sales
Every founder I spoke to started with founder-led sales—doing the sales themselves until they reached a certain milestone.
David Hsu (founder and CEO of Retool) shared why he found this so valuable:
This post is for paid subscribers